This is an archived article and the information in the article may be outdated. Please look at the time stamp on the story to see when it was last updated.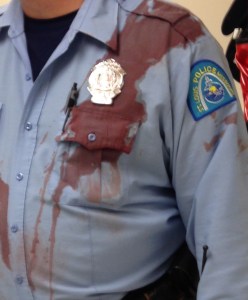 MARYLAND HEIGHTS, MO. (KTVI) –  St. Louis Police Officer Don Re recounted his story of seeing a 6 year-old boy be rushed into the emergency room of Children's hospital on March 11 in his personal blog. He titled the article, "A senseless death." The boy, along with two others, had been the victim of an unknown shooter. According to the St. Louis Post-Dispatch, the boy was riding in a van with seven others, three adults and four children, when a black car pulled up beside them on West Florissant Ave and opened fire.
Officer Don Re wrote when he had pulled into Children's Hospital, he saw a police officer rush the boy inside. The boy laid still, as though he were sleeping, Re recalled.
We arrived at the Children's Hospital Emergency Room at the same time.

He and his partner parked and I pulled up to their left and did the same.

I got out of my car and watched as the officer hurried from his seat and opened the back, driver's side door.

When the officer grabbed the boy from the back seat of his police Tahoe, I knew almost instantly.

There was a split second though, before instantly I guess, where I didn't know. For that split second, the officer looked like any dad grabbing his sleeping boy from the car and putting the boy's head on his shoulder to carry him inside to sleep comfortably in his own bed.
Re wrote the officer had to fight through an angry crowd to retrieve the boy laying in the street and put him inside his police SUV. Re said the Emergency Medical Services was on the way, but was too far from the scene. Re said other cops had shut down streets to clear a path, an honor that is usually reserved for officers who had been shot according to Re.  But alas, the move by the officers was not enough to help save the boy.
The truth, and I think we all knew it, was that this boy would never fall asleep in his own bed again. When the officer laid the boy down on the gurney and stood back upright, any wind that may have been in my sails quickly faded to nothing.
Re concluded his piece by thinking about the boy's mother, his classmates and how it reminded Re of his own children. Then, Re ends the post with two sentences.
This is all too sad and it needs to stop.

Someone please figure out how.
Read the full emotional blog post here:  A senseless death…