This is an archived article and the information in the article may be outdated. Please look at the time stamp on the story to see when it was last updated.
BELLEVILLE, IL (KTVI)-Belleville police hope citizens will call with tips to help solve a sexual assault case.  A 51-year old Belleville woman told authorities she was pulled from her bicycle early Saturday morning and then sexually assaulted in an alleyway near the 1000 block of West D St.
The woman said she had left a friend's house and was bicycling home around 1:30 am when the attack took place.  She heard footsteps behind her and then a man pulled on her coat to knock her off her bicycle.
Detective Sgt. Mark Heffernan described it as a random, violent incident.  The victim was treated at a local hospital and released.  She had managed to ride home where she called 911.
On Monday, police released an artist rendering of the suspect.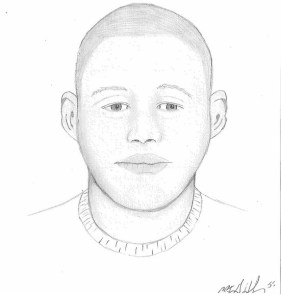 Resident Roslyn Graham, who has lived in the neighborhood for three years, said the area was becoming more violent.  "We've got sex offenders around here," she said adding neighbors have notified police in the past when the sex offenders appeared in the neighborhood.  "We try to look around and make sure nobody messes with the kids."
Graham and another neighbor Sherri Kelly agreed crime has become more prevalent in the area.
"We hear shots fired," said Graham.
Kelly complained of vandals destroying property in people's yards and stealing bicycles.
If you have any information regarding this incident, call the Belleville Police at 618-234-1212 or Crimestoppers at 866-371-8477.
[googlemaps https://www.google.com/maps/embed?pb=!1m14!1m8!1m3!1d3121.6748387966804!2d-89.9964002!3d38.5182095!3m2!1i1024!2i768!4f13.1!3m3!1m2!1s0x88760283115bcfa3%3A0xa62c45e99c7ec292!2s1100+W+D+St%2C+Belleville%2C+IL+62220!5e0!3m2!1sen!2sus!4v1413656500308&w=600&h=400]