This is an archived article and the information in the article may be outdated. Please look at the time stamp on the story to see when it was last updated.
POPLAR BLUFF, MO (KTVI) - There are disturbing details surfacing about a registered sex offender charged with the abduction of Abigail Berthoff, 5.  Abigail was last seen by her mother Tuesday night when she put the youngster to bed.  When her mother checked on her this morning Abigail was gone.
Authorities say a woman told them she went to Jerry Shelton's home early Wednesday and saw Abigail.  Shelton threatened to kill the woman and the little girl.  He bound the woman with duct tape and made the child expose herself. The woman escaped and Shelton took off with Abigail.
Authorities had issued an Amber Alert before Abigail and began the search for Shelton, but the suspect surrendered around 2 p.m. Wednesday. She had been missing for seven hours.  Police say Abigail was doing well and was asking for soda and chicken nuggets.
 Police Chief Danny Whitely remarked, "Praise the Lord that we found them."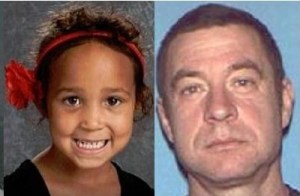 Authorities say Shelton, 46, had no comment when he was taken by officers into the city police station. 
Shelton was found with Abigail just south of town.  The FBI, Missouri Highway Patrol, Butler County Sheriff's deputies and Poplar Bluff police swarmed the area.  Some 40 officers hunted for Shelton and Abigail. Chief Whitely said he believes all the law enforcement caused Shelton to give up and surrender.
Shelton is a registered sex offender for crimes involving young girls.  He is now charged with four felonies, including kidnapping Abigail. 
Abigail's family members are grateful she was found alive.  Her mother Eva Crawford said, "I was scared, worried and scared and worried I didn't know what might happen or anything.  I've been crying all morning I'm just thankful with everyone that helped find her."   Abigail's grandmother Cathy Harty added, "I was empty just a little while ago but my hearts full again and I know God answers prayers and this is a miracle he answered."
Police and family members believe this was a stranger abduction that the suspect did not have a tie to Abigail or her family. However, police think the suspect may have visited friends in Abigail's neighborhood before and spotted the girl then.
Other Links:
Amber Alert.com
National Center for Missing and Exploited Children