This is an archived article and the information in the article may be outdated. Please look at the time stamp on the story to see when it was last updated.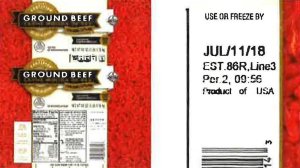 ST. LOUIS, MO — A major beef recall linked to e-coli, is to blame for at least one death and 18 people getting sick.  The bacteria was found in 133,000 lbs pounds of ground chuck nationwide.
The meat was distributed by Cargill Meat Solutions and produced on June 21st. They were sold in three, ten, and 20-pound packages at many stores across the United States.  The USDA inspection mark on the package says "EST. 86R" inside.
The USDA has just released a list of retail locations and states who may have received the tainted beef. The stores include:
Aldi:  Stores in Iowa, Illinois, Kansas, Minnesota, Missouri, Nebraska, Oklahoma, and Wisconsin
FoodMaxx: Stores in California
Meijer: Nationwide
Pak N Save: Stores in California
Safeway/Albertson's: Nationwide
Sam's Club: Nationwide
Target: Nationwide
Vons: Stores in California
According to the US Centers for Disease Control and Prevention, illnesses have been reported in four states: Colorado, Florida, Massachusetts and Tennessee. The sick individuals began experiencing symptoms between July 5 and 25.
Symptoms of E. coli begin between one and 10 days after consuming contaminated food or drink, but most people become sick three to four days after exposure, the CDC says.
Symptoms can include diarrhea that is sometimes bloody, vomiting and fever. Most people recover after five to seven days. Some individuals, about 5 to 10%, develop a type of kidney failure called hemolytic uremic syndrome.
A recall of ground meat products from the same Colorado-based company was announced in August for ground meat products sold at Publix locations. At the time, the company reported E. coli illnesses but no deaths.
The USDA's Food Safety and Inspection Service "is concerned that some product may be frozen and in consumers' freezers. Consumers who have purchased these products are urged not to consume them. These products should be thrown away or returned to the place of purchase," said the recall announcement issued Wednesday.
The agency reminded consumers to use a meat thermometer to assure an internal temperature of at least 160 degrees Fahrenheit, which is necessary to kill bacteria that can cause illness.