This is an archived article and the information in the article may be outdated. Please look at the time stamp on the story to see when it was last updated.
ST. LOUIS, MO — We're reflecting on Chief Meteorologist Dave Murray's career in St. Louis after his last weather special. He announced that he will be retiring September 14th.
Murray started on KSDK 42-years ago at 23-years-old. He was barely out of college when he made his on-air debut in 1976. During the 1980's he anchored along with Dick Ford and Karen Foss.
The weather graphics, radar, and phone system were not very advanced. But, St. Louis seemed to be hooked on his forecast. Unfortunately, they had to say goodbye before welcoming him back for decades.
Murray left St. Louis in 1983 to do the weather for the network. He started working at Good Morning America in New York. But, he continued to feature the stars and sights of St. Louis during his national reports. ABC sent him across the country to report on the weather.
St. Louis welcomed Dave Murray back to the Midwest in 1989 when he became Chief Meteorologist for KTVI. He anchored with Donn Johnson and Tom O'Neill among others.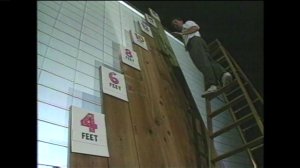 In 1991 he started working with Mandy Murphey and Dick Ford. The flood of 1993 kicked off the biggest weather event of his career. Murray and our crew built a homemade flood wall to show viewers how much water was covering the area.
Murray's severe weather coverage has helped him win 13 regional Emmy awards during his career. He has spent a career dedicated to forecasting for St. Louis.
You can continue to follow Dave Murray on Facebook and the radio after he retires from KTVI.  "Like" his page for updates: