This is an archived article and the information in the article may be outdated. Please look at the time stamp on the story to see when it was last updated.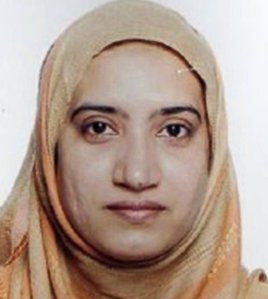 SAN BERNARDINO, CA – Three U.S. officials familiar with the San Bernardino, California, massacre have told CNN that the woman involved in the shooting authored — as the incident was occurring — a Facebook post declaring her loyalty to the leader of ISIS.
Tashfeen Malik's post pledging allegiance to Abu Bakr al-Baghdadi was made on an account with a different name, according to one U.S. official.
The officials did not explain how they knew Malik made the post.
A law enforcement official said it appeared the San Bernardino attack may have been inspired by ISIS, but none of the officials said that ISIS directed or ordered the attack.
"This is looking more and more like self-radicalization," a law enforcement official said.
In addition, the law enforcement source said that investigators in the San Bernadino attacks are putting a greater focus on whether there was a workplace issue around religion.
Here's what we know so far about Tashfeen Malik:
Marriage to Syed Rizwan Farook
Malik, 27, was married to Syed Rizwan Farook, 28, her accomplice in the shooting Wednesday that left 14 people dead and 21 injured and culminated in their deaths in a police shootout.
They lived in a rented home in Redlands, which neighbors San Bernardino.
Malik was born and raised in Pakistan and lived in Saudi Arabia before coming to the United States on a "fiancée visa." She later became a lawful permanent resident.
The couple had a 6-month-old daughter, whom they left with a grandmother the day of the shooting.
Mohammad Abuershaid, an attorney for Farook's family, said Malik moved to Riyadh when she was between 18 and 20.
Abuershaid told CNN's Chris Cuomo that the couple met via an online dating website. They met in person when Farook traveled to Saudi Arabia in 2013 during the Hajj pilgrimage, the attorney said.
Mustafa Kuko, director of Islamic Center of Riverside, counseled Farook as he was looking for a religious woman to marry, Kuko said.
Farook married Malik in a religious marital ceremony during a second trip to Saudi Arabia a short time later, and then returned the U.S. with his new wife, Kuko said.
It was on Farook's second return trip from Saudi Arabia that Malik entered the United States, said Kuko, who officiated the couple's U.S. marital ceremony at his mosque in 2014.
Joining the couple in their rented two-story townhouse with two bedrooms and 1 1/2 bathrooms were the couple's baby and Farook's mother, their landlord said.
"She was very conservative. She was a stay-at-home mom. She was helping raising the children. She was helping take care of the mother at the house," Abuershaid said.
Malik was described as a shy, quiet person who kept to herself, according to Farook's sister and her husband, who appeared on CBS.
'Nothing … out of the ordinary'
Like her husband, Malik wasn't on any list of potentially radicalized people, and there was no evidence linking her to any terror groups overseas prior to news of the Facebook posting.
"There was nothing to show that she was extreme at all," Abuershaid told CNN. "She was a practicing Muslim, she believed in the religion, and she was just doing the five prayers a day, the fasting… there was nothing to show that she was out of the ordinary. "
Abuershaid said Farook's sisters "would talk to [Malik], and they would see her once in a while. But it wasn't something that they would be getting together every single day or every single week. It was just, they see her at these family events, they talk to her, and that would be it."
Abuershaid said there was nothing to show she was responsible for radicalizing her husband.
Malik was of petite stature, which led David S. Chesley, another attorney for the Farook family, to assert that she was an unlikely gunman in the San Bernardino attacks.
"She was never involved in shooting. She's probably about 90 pounds, so it's unlikely she could even carry a weapon or wear some type of a vest or do any of this," Chesley said.
What their landlord said
Last May, Malik and her husband rented a townhouse in Redlands, about seven miles from the attack site, said Doyle Miller, their landlord and owner of the townhouse. The couple answered Miller's ad on Craigslist.
Miller said his wife interviewed the couple and he did not know them well. The couple had good credit.
"They seemed to be very timid," he told CNN. "I only saw him a couple times. He delivered the checks once in a while … there was no cause for concern.
"Once we rented the property, we don't bother people," Miller said. "They seemed like gentle-minded people. I guess you can't judge a book by its cover."