This is an archived article and the information in the article may be outdated. Please look at the time stamp on the story to see when it was last updated.
ST. LOUIS, MO (KTVI) - A series of SARAA and Amber alerts have been cancelled after two young children were found safe hours after they were taken by their father moments after he allegedly shot and killed their eight-month-old brother.
Police in St. Louis City and St. Louis County have been investigating the shooting death of 8-month-old Reien Crockett on the city's north side at around 1 p.m. Tuesday. Reien was pronounced dead at Christian Hospital after being taken there by a Good Samaritan.
The boys' father, 35-year-old Diata Crockett, is the suspect in the shooting.
According to police, the family got into a rental car in Bellefontaine Neighbors when the mother said she felt coerced to get into the vehicle. The couple got into an argument and she got out of the car with the eight-month-old at I-270 and Riverview. Police said Diata shot at the mother during the dispute and ended up striking his infant son.
The mother and the Good Samaritan called police about the shooting and abduction while driving to the hospital with the wounded eight-month-old. She said that Diata Crockett was trying to run them off the road while they went for help.
A SARAA (regional abduction) alert and Amber Alert were issued for the children because they  were in the car when Diata Crockett vanished. They were identified as three-year-old Blaze and two-year-old Ryker.
Blaze and Ryker were later found unharmed at a relative's house in Bellefontaine Neighbors.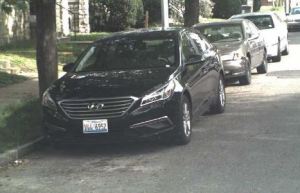 Law enforcement agencies from across the area said they're continuing the search for Diata Crockett. The 2014 black Hyundai Sonata with Illinois plates he was driving was found Tuesday night in the 2900 block of Caddiefield in Ferguson, MO.   Crockett remains at large and was last seen wearing a lime green shirt and green pants. Anyone with information is asked to call CrimeStoppers at 866-371-TIPS.
Upon his arrest, Diata Crockett will be charged with first-degree murder, first-degree domestic assault, and armed criminal action.
St. Louis Police Chief Sam Dotson said Diata Crockett is a convicted felon and may be wanted on a parole violation. The mother told investigators that Diata had previously made suicidal and homicidal threats towards the family in the past. The couple has six children. Three of them were at daycare at the time of the shooting.