This is an archived article and the information in the article may be outdated. Please look at the time stamp on the story to see when it was last updated.
ST. LOUIS, MO (KTVI) - It was the sign seen across Cardinal Nation. What appears to be a Boston Red Sox fan giggling during the solemn Stand Up To Cancer moment at World Series Game 4.  It was Her name is Sarah Newlon.
Chris Higgins got hold of her as she was leaving town. She says it's all a mistake. She's a hug Cardinals fan and she and her companion were laughing about being on the JumboTron. She goes on to say she wrote "Molina" because he's her inspiration to be strong.
A lot of people got the wrong impression when they saw the video.  A man is laughing and a woman is holding up her SU2C sign where she has filled in "Molina." Everyone else wrote the name of a friend or loved one fighting cancer. No one else around them was laughing.
Social media lit up right after the scene was shown on TV.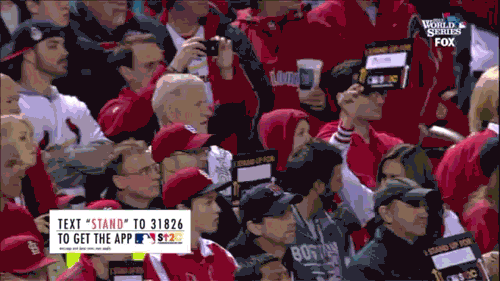 For those that think I would ever mock cancer, my sign meant which player inspires me to stand up to cancer. Im sorry it came across poorly.

— Sarah Newlon (@SarahNewlon) October 28, 2013
https://twitter.com/SarahNewlon/status/394676819040796672
In no way would we ever laugh or make fun of cancer.

— Sarah Newlon (@SarahNewlon) October 28, 2013
For more information on Standup2cancer.org, click this link