This is an archived article and the information in the article may be outdated. Please look at the time stamp on the story to see when it was last updated.
ST. LOUIS, MO (KTVI) - A very windy and mild to warm day is on tap for the region. Temperatures will warm into the 60's and lower 70's, especially in Missouri where more sunshine is likely later this morning into Monday afternoon. That warming will help fuel thunderstorms which are expected to develop over western or northwestern Missouri early Monday evening and spread southeast towards St. Louis. They should spread across the viewing area between 10pm and 4am.
This system does not look as potent as last week. The instability will be somewhat lower but still pretty healthy for so early in the season. The big concern is the amount of wind shear available for the thunderstorms. This shear is lined up in such a way as to promote damaging winds as the primary threat but could also support a couple of those quick hitting, short track tornadoes we sometimes get in lines of thunderstorms.
Threat Zones: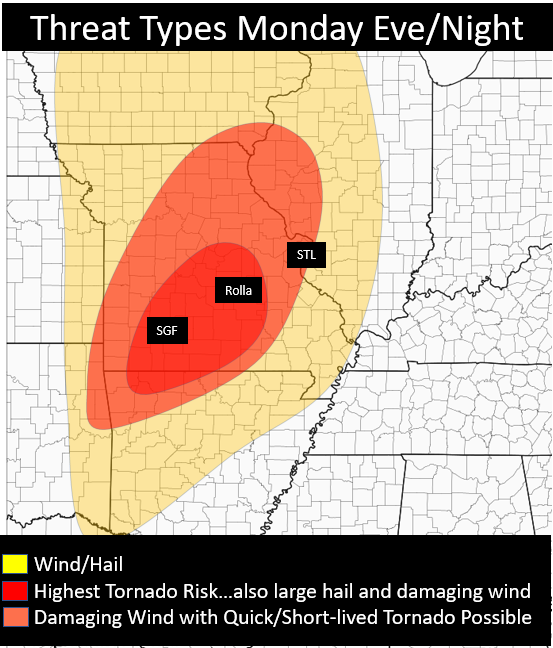 Bright Red Zone:
This region from Jefferson City…to Rolla and Springfield, MO is the region with the greatest concern for a tornado producing storm or two. These storms will also be capable of damaging winds and very large hail (golf ball or greater).
Orange Zone:
This region could see a mix of threats…mainly focused on damaging winds and some quarter to golf ball sized hail. However, there is also a risk of some quick spin-up/short track tornadoes. This region is generally along and west of Hwy 67 and includes the STL metro.
Yellow Zone:
This is where the primary threat will remain large hail and some damaging wind gusts.
Timing:
This will be a "west to east" system that will give everyone an hour or so of thunderstorm activity. It will enter our far western/northwestern counties around 10pm and be in St. louis Metro around midnight and into southern Illinois between 2am and 4am, give or take an hour or so.
See the current weather radar here.
Grab our app for the the updates on your phone:  FOX2Now.com/Apps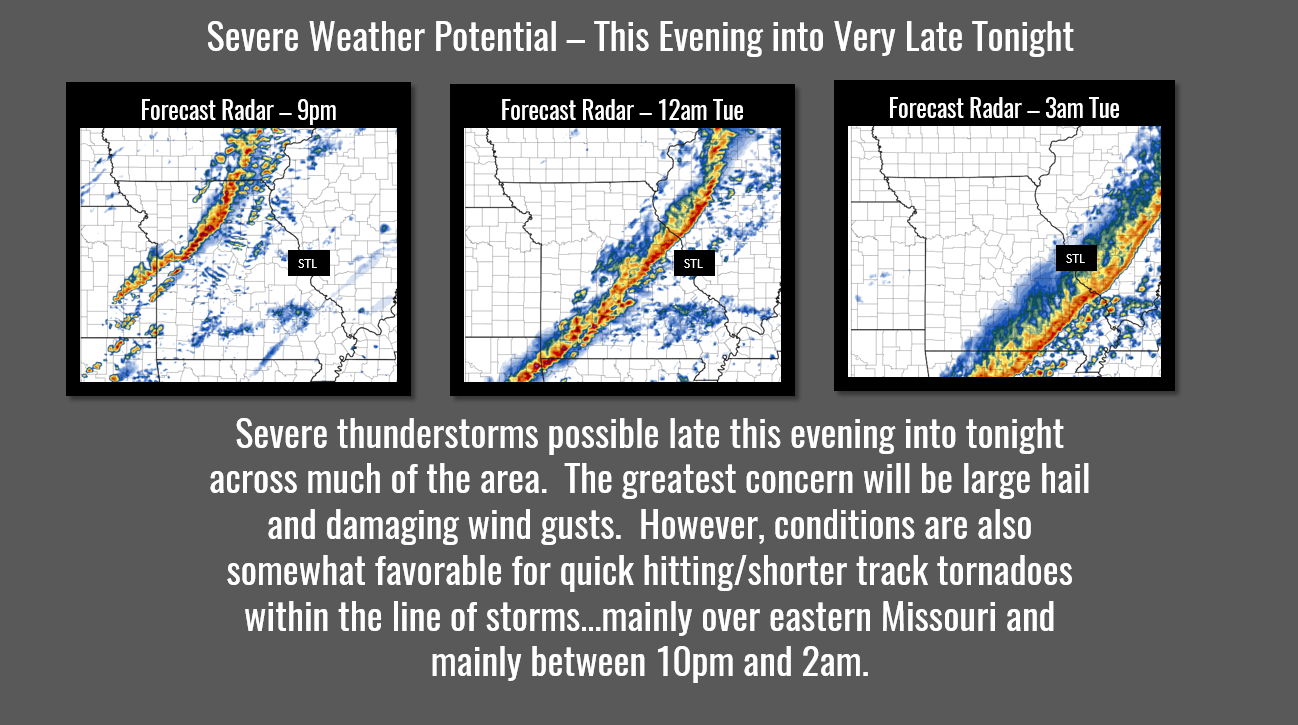 Windy and warm today, severe storms possible tonight. #STLwx #MOwx #ILwx #MidMOwx pic.twitter.com/3WwI4j5RPM

— NWS St. Louis (@NWSStLouis) March 6, 2017