This is an archived article and the information in the article may be outdated. Please look at the time stamp on the story to see when it was last updated.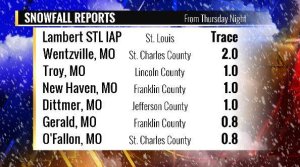 ST. LOUIS, Mo. — The first "mood snow" of the season left behind a light coating of snow...right where it was supposed to...mainly along and north of I-70 in Illinois and along and west of I-44 in Missouri. A slushy coating built up on grassy surfaces with some spots actually able to measure. Lambert reported a trace for Thursday which ties the record for the day (not very impressive...I know).
There is another weather system that has me a little concerned for the Friday evening rush.