This is an archived article and the information in the article may be outdated. Please look at the time stamp on the story to see when it was last updated.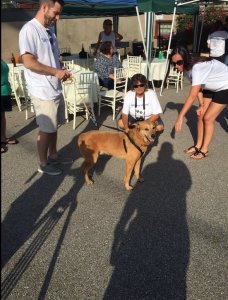 ST. CHARLES, MO (KTVI) - An Australian Shepherd mix missing for nearly five months in south county is back home with owners, after a month's long search that brought a number of communities together.
'Teddy' went missing from the Affton area in March.  Thanks to the reach of social media, hundreds- many who had no connection to Teddy or his family soon joined the search.
"Many of these people have full time jobs and their own lives, and whenever they could help, they would drop everything to help find Teddy" said Carolyn Holden, Teddy's owner.
"We would walk through woods, creeks, highways, parks, anywhere to find Teddy" said Tina Roe of #TeamTeddy.  "It really is about helping people.  That's what we wanted to do and it was all worth it for this moment" she said.
On Sunday, the group of people who were once strangers celebrated Teddy's return as one family.
"Family does whatever it takes to help family" said Holden.  "Teddy is a part of our family... he never gave up on us" she said. "So we were not going to give up on him".
#TeamTeddy celebrates Teddy reuniting with owners after 4.5 months, but also uniting a region. Story on @KPLR11 at 7 pic.twitter.com/kVkmu4jNEe

— Gerron Jordan (@GerronJordan) August 7, 2016