This is an archived article and the information in the article may be outdated. Please look at the time stamp on the story to see when it was last updated.
ST. CHARLES COUNTY, Mo. – Investigators with the St. Charles County Police Department are asking for the public's help in searching for two people who stole a pickup truck earlier this month.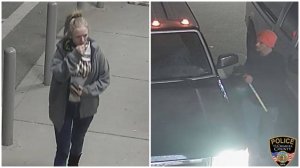 According to a post on the department's Facebook page, the suspects were last seen February 9 on a surveillance video in the 4400 block of Highway 79.
The pair is believed to be responsible for the theft of a 1996 Ford F-250 with Missouri license plates 2YC349.
Anyone with information on the suspects' identities or whereabouts is asked to contact Det. Anderson at 636-949-3000 (ext. 2523).