This is an archived article and the information in the article may be outdated. Please look at the time stamp on the story to see when it was last updated.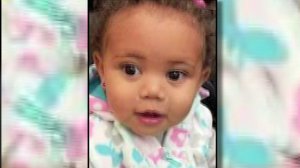 ST. CHARLES, MO (KTVI) – A St. Charles County couple grieving the loss of their baby girl is now facing felony charges for her death. Their daughter died in August 2014, after the family dog attacked her.
It happened all-too suddenly.  22-month old Deriah Solem was at home with her grandmother and older brothers, when the family dog lunged toward her. Deriah`s grandmother tried to pry the dog away and lost several finger tips in the process. Deriah ultimately died. The family dog of 10 years, a Staffordshire Terrior,  was euthanized.
"I was shocked, because you would never think that an incident like this would ever occur. It was just a normal day turned into a tragic day." said Aunt Karen Williams
Five months later, Deriah`s parents, Sharon and Derek Solem, were arrested and charged with child endangerment, and allowing their dog to fatally bite someone. Both crimes are felonies.
Sharon`s twin sister, Karen Williams, is shocked. To her knowledge, the dog had never been aggressive.
How did the dog act around you? "Just a normal dog, it was just there, it didn't bark or anything of the sort." said  Aunt Karen Williams
Meanwhile, the prosecuting attorney says there`s plenty of evidence this dog was aggressive, detailed here in this indictment.
"This dog had bitten one of the children in the home on a previous occasion, the dog also showed some very aggressive tendencies toward the victim child in this case. So that`s what raised this to criminal liability on the part of the parents." said St. Charles Co. Prosecutor Tim Lohmar.
Williams says her sister and brother in-law are hard-working, good people who now have to face huge legal fees, jail time, or both. She worries about her sister`s two little boys, who had to witness the horrific attack, now this.
"Now their sister is taken away, and now you`re going to try to take away their parents? That`s causing more harm and devastation to the kids." said Karen Williams.
"I know it`s a horribly devastating situation for everybody involved, especially for the parents, but we feel like we have to balance that against our responsibility to pursue what we believe we need to pursue." said St. Charles County Prosecutor Tim Lohmar.