This is an archived article and the information in the article may be outdated. Please look at the time stamp on the story to see when it was last updated.
ST. CHARLES, MO. (KTVI) – Police in St. Charles apprehended a man and woman after a routine traffic stop turned into a chase.
Police checked the license plate of a car and found out the car was wanted.  When the driver and a passenger were stopped, neither one had identification.
The driver gave police a false name.  That false name had outstanding warrants for multiple charges, including burglary and armed criminal action.
After the stop was made, the suspect took off with a female passenger and crashed into a creek near Country Club Rd.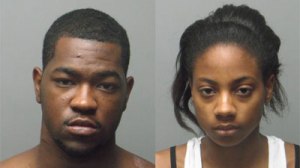 The female was taken into custody but the male took off.
Police used a chopper with a spotlight to track the suspect down and were able to take him into custody.
Sgt. Todd Wilson was pleased the suspect was captured without anyone getting injured.
'It was a busy night outside with a lot of people outside and walking their dogs,' said Wilson.
Some of them saw the suspect run right by them.
Travis A. McClure, 21, is currently pending warrant application on charges of resisting arrest by fleeing, driving while revoked/suspended, and possession of drug paraphernalia.
 McClure's girlfriend, 19-year-old Victoria Knight, was charged in municipal court with hindering arrest for aiding McClure in his attempted false identification efforts.