This is an archived article and the information in the article may be outdated. Please look at the time stamp on the story to see when it was last updated.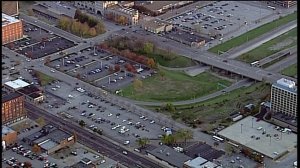 ST. LOUIS (KTVI) – An ownership group spearheading the effort to bring a professional soccer team to St. Louis has identified a primary investor, a location for a perspective stadium, and a funding plan.
The SC STL group, comprised of local sports and business leaders, said it has taken the necessary steps to present a viable plan to Major League Soccer Commissioner Don Garber in an effort to be awarded an expansion franchise.
The group had been known as MLS2STL prior to Thursday's announcement.
The members of SCSTL are:
Bill DeWitt III, president of the St. Louis Cardinals
Paul Edgerley, former managing executive with Bain Capital
David Gross-Loh, a managing rirector at Bain Capital
Robert Hermann Jr.
Jim Kavanaugh, co-founder and CEO of World Wide Technology
Vicky Lynch, consultant at Lynch Sports and Events
Steve Maritz, chairman and CEO of Maritz Corporation
Terry Matlack, co-founder of Tortoise Capital Advisors
Bob O'Loughlin, chairman and CEO of Lodging Hospitality Management in St. Louis
Dave Peacock, chairman of the board of directors for the St. Louis Sports Commission
Jim Powers, president and CEO of UniGroup (United Van Lines)
Thomas Roberts, managing director for Summit Partners
John Sherman, vice chairman of the Cleveland Indians and former CEO of Inergy LP
Jim Woodcock, senior VP, partner and global sports co-lead at FleishmanHillard
Chris Zimmerman, President/CEO of Scotttrade Center, Peabody Opera House and the St Louis Blues
According to Fox 2 Sports Director Martin Kilcoyne, the stadium would be located west of Union Station off Market Street. The City of St. Louis was engaged in negotiations to obtain an area of land by 22nd Street and the Interstate 64 interchange from MoDOT.
SC STL identified Edgerley as a potential owner and chairman of the ownership group. Edgerley was part of a business group that purchased the Boston Celtics NBA franchise in December 2002. He also owns minority shares in AS Roma, the Italian futbol superpower from Serie A. In December 2015, Edgerley retired from Bain Capital after 25 years with the private equity firm. He attended Kansas State University as an undergrad and later attended Harvard Business School.
Commissioner Garber said the MLS is in the process of expanding to 28 teams.
If an expansion franchise were awarded to St. Louis, the team could begin playing here as early as 2021.