This is an archived article and the information in the article may be outdated. Please look at the time stamp on the story to see when it was last updated.
ST. LOUIS, MO (KTVI) – St. Louis firefighters were fired up over words from the head of the St. Louis Police Officers Association (SLPOA).  Those words imply firefighters are slower to respond to calls in troubled neighborhoods.
The comment came in a column from SLPOA Business Manager, Jeff Roorda, titled "Do Something Amazing".
It appears in the latest edition of the SLPOA's monthly newspaper, Gendarme.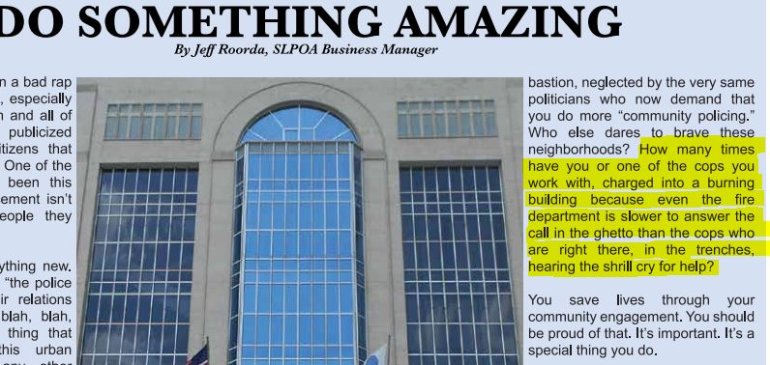 Roorda's column encouraged police to do more to touch people's lives in spite of continued criticism from people, especially politicians, who've never walked in their shoes.  "How many times have you or one of the cops you work with, charged into a burning building because even the fire department is slower to answer the call in the ghetto than the cops who are right there, in the trenches, hearing the shrill cry for help?"
"To make a statement to the effect that the St. Louis Fire Department responds to different geographical locations in the city on a varied basis, based on who we're going to protect, that's just totally ludicrous," said St. Louis Fire Chief, Dennis Jenkerson.
He said he got several calls from irate staff members from all facets of the department, just after the column was published.
"Our average response time is 4 minutes or less no matter where you're at in the city," Jenkerson said.
The president of Firefighters' Union, Local 73, St. Louis Firefighter, Demetris Alfred, took about 25 calls from upset union members just after the column was published, he said.
Roorda pointed to his record as a staunch supporter of firefighters during his days as a Missouri legislator.
His office is adorned with awards from firefighters.  He's a former Antonia volunteer firefighter and fire board member.
"We've got a long, close, relationship with the firefighters' union," he said.  "Those guys are in the same fox hole that we are every day. The chief wants to go to war over this, the fire chief, I'm just not going to give him the satisfaction…clearly what was meant and what was said is that cops get there quicker.  I used the term 'firefighters are slower than the cops', I should have said 'cops are quicker than the firefighters' because of geography," Roorda said.
"Once you ring that bell, he's rung it before, this isn't the first time.  He needs to be controlled.  He needs to probably be disciplined over it," Jenkerson said.  "We take pride in what we provide for the city of St. Louis.  He took a shot at that."
Roorda has posted an explanation and apology on Facebook.
A clarification will appear in the next issue of Gendarme, he said.
"Everyone gets to make a mistake," Alfred said.
He was willing to move on after what he called 'poor choice of words'.
St. Louis Fire Department Chief Dennis Jenkerson issued the following statement:
"The St. Louis Fire Department has always responded to all calls throughout the City of St. Louis in a manner that makes us one of the most respected fire departments in this country.

On the average, the St. Louis Fire Department provides highly trained responders to incidents across the city in under 4 minutes.

Our ability to get immediate and often life-saving care is a point of great pride for the firefighters, medical professionals and dispatchers who work tirelessly on behalf of those we serve.

We provide the same professional fire & EMS response to all of our citizens and visitors no matter the location of the incident.

It is unfortunate that an individual such as Mr. Roorda, who is paid to represent an organization comprised of brave and professional police, is continually allowed to voice and put into print his uneducated, uninformed and disparate comments without accountability or corrective actions. His baseless comments are an insult to every professional first responder, including firefighters and EMS, in our City."
Jeff Roorda responded to FOX 2 with this statement:
"I have talked to the president of the Firefighters Union and explained that I wasn't saying that the FD is slower to respond to calls in bad neighborhoods than they are to calls in good neighborhoods but rather, that cops often arrive first before the fire department because they are already out on patrol in those neighborhoods. We are putting a statement in the next Gendarme to explain the intent of the story and to apologize for any misunderstanding. The Firefighters Union prez is going to convey that to his members in the meantime to avoid any hurt feelings."