This is an archived article and the information in the article may be outdated. Please look at the time stamp on the story to see when it was last updated.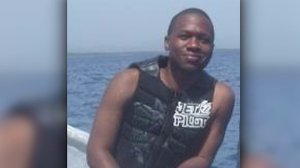 ST. LOUIS, MO (KTVI) – A federal judge has charged a St. Louis man with making bomb threats against Jewish organizations across the country as part of his efforts to harass his ex-girlfriend.
Juan Thompson, 31, is charged with cyberstalking. Prosecutors say he tried to intimidate a woman by threatening JCCs across the country. The cyberstalking charge means Thompson faces a maximum sentence of 5 years in prison.
The FBI and US Attorney's Office in New York began investigating a series of threats across the country to schools, community centers and other organizations that help service the Jewish community. They say Thompson appears to have made at least eight of the JCC threats.
Prosecutors say the threats were part of a campaign to harass and intimidate his victim. Investigators say the threats began just after his girlfriend ended their romantic relationship in July 2016. The US Attorney's office say he sent defamatory emails, faxes to her employer, false reports of criminal activity by the victim, and threats to JCCs in her name.
An email containing false accusations about the victim was traced back to Thompson's social media in July.  Investigators say Thompson falsely claimed that the victim had child pornography in October. An IP address associated with that report was also traced back to his home. He told law enforcement that his email was hacked when confronted in November.
In January and February 2017, the US Attorney's office says that threats to at least eight Jewish Community Centers were made as part of his campaign of harassment. They say the Anti-Defamation League received an emailed threat at their midtown Manhattan office. The e-mail said,  "(Victim's name and birthdate) is behind the bomb threats against jews. She lives in nyc and is making more bomb threats tomorrow." The next day, the ADL received a phone call claiming that explosive material had been placed in the ADL's midtown Manhattan office.
Some threats to Jewish Community Centers appear to have been made in Thompson's name. Prosecutors say this was an effort to claim that the victim was trying to frame Thompson. The JCC in Manhattan received an email on February 7 from an anonymous account that read, "Juan Thompson put two bombs in the office of the Jewish center today. He wants to create Jewish newtown tomorrow."
A Twitter account that appears to have been used by Thompson in February 2017 was also used to accused his victim of JCC threats. A tweet from the account reads, "(Victim's name), though I can't prove it, even sent a bomb threat in my name to a Jewish center, which was odd given her antisemitic statements. I got a visit from the FBI. So now I'm battling the racist FBI and this vile, evil, racist white woman." On February 26, 2017, the Thompson Twitter Account posted "The hatred of Jews goes across all demos. Ask NYC's (Victim's employer). They employ a filthy anti-Semite in (victim). These ppl are evil."
https://twitter.com/JuanMThompson/status/836348701937397761
"Thompson's alleged pattern of harassment not only involved the defamation of his female victim, but his threats intimidated an entire community. The FBI and our partners take these crimes seriously. I would also like to thank the NYPD and the New York State Police, who continue to work shoulder to shoulder with us as we investigate and track down every single threat and work together to achieve justice for our communities that have been victimized by these threats," said FBI Assistant Director-in-Charge William F. Sweeney Jr.
A St. Louis Jewish Cemetery was vandalized in February. Close to 200 gravestones were toppled. Jewish cemeteries in New York and Pennsylvania were also recently desecrated. There are also dozens of recent threats against organizations that service the Jewish Community. These incidents are still under investigation.
Thompson was arrested in St. Louis Friday morning. FBI agents and police could be seen carrying evidence from his mother and stepfather's home in north St. Louis.
Tyrone Lampkin, Juan's stepfather, said Thompson had not been in their home in a month. He indicated agents removed many electronic devices, including phones owned by family members. Lampkin said he's surprised about the allegations against his stepson and doesn't know anything about the relationship that appears to have sparked this all.
"I seen it on the news. Don't get me wrong, I watch, but I didn't know it was him and they're saying it was him," Lampkin said.
The initial hearing in federal court lasted only minutes. Thompson told the judge he thought he could afford an attorney that he "has a little money."
Afterwards, Karen Aroesty, the head of the Anti-Defamation League, said she doesn't know if this can be called a hate crime, but she does know the impact of the threats was felt by many people.
Aroesty said, "You feel a bit out of control you feel scared just plain and simple you feel like you're being targeted for who you really area whether you're a civil rights advocate or Jewish whatever the reason is I feel very, very personally targeted."
Thompson family members and friends who were in the court room said Thompson was a straight 'A' student, the oldest of 10 children, and the first in his family to go to college. The said he's ever done anything against the law, not even jaywalking. He's due back in court next Wednesday.
JUAN THOMPSON, 31, of Saint Louis, Missouri, charged with cyberstalking woman by, among other things, communicating threats to JCCs

— Adam Goldman (@adamgoldmanNYT) March 3, 2017
JUAN THOMPSON, 31, of Saint Louis, Missouri, charged with cyberstalking woman by, among other things, communicating threats to JCCs

— Adam Goldman (@adamgoldmanNYT) March 3, 2017
BREAKING: FBI confirms 31 year old Juan Thompson of St. Louis, MO arrested in connection w/ bomb threats targeting Jewish Community Centers

— Lisa Daftari (@LisaDaftari) March 3, 2017