This is an archived article and the information in the article may be outdated. Please look at the time stamp on the story to see when it was last updated.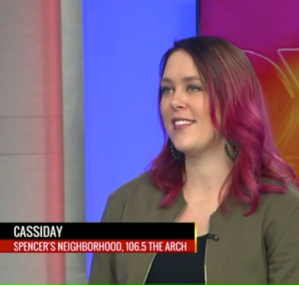 ST. LOUIS, MO — A morning radio show host gave birth live on the air Tuesday. Cassiday Proctor can be heard weekday mornings on 106.5 FM "The Arch." She brought listeners with her through her pregnancy and then her labor at the hospital, all during morning drive-time.
Arch program director Scott Roddy tells the Riverfront Times that she started experiencing labor pains Monday. There were some complications with the labor that had Proctor give birth by Caesarean section.
The radio station coordinated with nurses to help broadcast the birth. A healthy baby boy was born Tuesday at 7:45am, smack in the middle of rush hour.
Listeners have been a large part of the pregnancy. They voted to name the child Jameson in January.
Spencer's Neighborhood can be heard on 106.5 FM weekdays from 5am to 9am. There are several fill-in hosts for Cassiday while she is on maternity leave.
You can listen to the broadcast of the birth here:
Images from Cassiday's Instagram account: