This is an archived article and the information in the article may be outdated. Please look at the time stamp on the story to see when it was last updated.
(KTVI)- With a year to go ahead of next November, it is already clear that 2016 isn't your father's or your grandfather's election cycle. In this new media era, there are more and more ways to experience a campaign, and a St. Louis native is showing there's more than one way to watch campaigns too. Kathleen Madigan, the North St. Louis County native who rose to national comedic fame on NBC's Last Comic Standing has been using Periscope to livestream her reaction to presidential debates.
In an email interview, Madigan, who just made a St. Louis tour stop at the Peabody Opera House last month, told FOX2 she got hooked on Periscope, the Twitter livestreaming app, while trying to watch the Floyd Mayweather-Manny Pacquiao fight while on the road in Detroit. "I got off stage and I couldn't buy it in a hotel but I thought, 'Oh, I bet someone is Periscoping it.' Sure enough, some stoners were having a fight-pot-beer party and filmed the tv showing the fight. So I joined a party somewhere, and watched the fight. It was soooooo weird and awesome."
She found herself in New York City with comedian Lewis Black on the night of the first GOP debate, watching in a bar, and when people saw her tweets about the debate and wished they could watch with her, she started Periscoping from the bar. Black has been partner in crime on these streams, but the pair was joined by comedian Ron White to watch last week's CNBC debate. Tour schedules will dictate if they're able to continue the practice during future debates.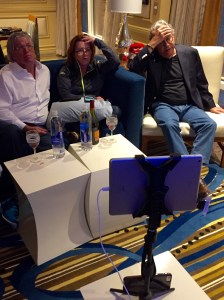 Here's an edited transcript of the rest of our interview, where she riffs on Donald Trump, what she thinks of debate moderators, and the question they haven't asked yet:
Have you been surprised by the amount of people who have tuned in (to debates)?
Republicans have way better numbers because they have more people and the Donald is like watching a dangerous stunt driver….fast and could crash at any turn but also might win it all.
On cable at least, viewers tend to tune into the network which matches their perceived point of view. Have you sensed that with your audience?
I sense most people aren't watching at all. There's a ton of disillusionment on both sides. Everyone would know a lot more about the candidates if they were on 'Dancing with the Stars'.

Give us a question you wish moderators would ask the candidates but haven't yet?
Education. What good does it do if we are a number one nation if we are a nation of idiots. I want someone to ask, "Hey, most rich kids are going to private schools and the public schools are getting worse. How can we fix the public school system and make it at least what it was 20 years ago."
I think asking someone how they would fix the Middle East and limiting their answer to 60 seconds is the real definition of insanity. Stop with the TV anchors trying to get stage time. Use people that are not in the fame game and I firmly believe all of these moderators so far are in that game. We are all sick of the gotcha questions. Anyone involved should have to watch the Canadian debates (done in French and English, btw) and see what a debate can be.