This is an archived article and the information in the article may be outdated. Please look at the time stamp on the story to see when it was last updated.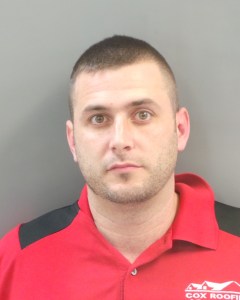 ST. LOUIS (KTVI) – The St. Louis Circuit Attorney's Office charged a 33-year-old man Wednesday for alleged spray-paint vandalism tied to a graffiti artist with the moniker "Super."
According to court documents, St. Louis police were called to an apartment building in 400 block of N. Tucker Boulevard on Christmas Eve 2015 in response to vandalism. Officers found the word "Super" spray-painted on the side of the building. The landlord reported the property damage exceeded $750.
At the time, the building manager found cans of spray paint and a Walmart receipt inside the building near the location of the graffiti. Officers went to the Walmart listed on the receipt and obtained surveillance video of a suspect leaving the store after the purchase was made.
In the early morning hours of March 24, 2016, police responded to a vandalism call in the 300 block of N. Memorial Drive. Again, the word "Super" was spray-painted on the side of the building and the damage exceeded $750. Video surveillance at the scene showed the suspect from the Walmart video scope out the area before retrieving spray paint from his pickup truck.
Investigators identified their suspect as David Cox and attempted to take him into custody on April 5. Cox allegedly fled in his truck when police came to arrest him. He stopped to let two passengers out of his truck and continued driving. The suspect ignored several stop signs and even drove into oncoming traffic, forcing police to break off their pursuit.
Police located the truck abandoned half an hour later. Authorities located several spray paint cans and a semi-automatic pistol hidden inside in a box.
Cox was arrested a short time later.
Prosecutors charged Cox with two counts of first-degree property damage, being a convicted felon in possession of a firearm, and resisting arrest. He remains jailed on $35,000 cash-only bond.
See a Flickr gallery of Super graffiti photos here