This is an archived article and the information in the article may be outdated. Please look at the time stamp on the story to see when it was last updated.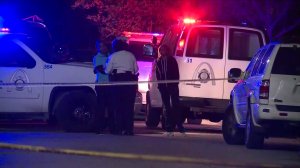 ST. LOUIS (KTVI) – St. Louis police are investigating yet another homicide that occurred Sunday on the city streets.
The latest murder took place just before 9:30 p.m. Sunday night in the 4200 block on W. Maffitt, in The Ville neighborhood.
The victim, 36-year-old Willie Patton, was found on the sidewalk with a gunshot wound to the head. He was pronounced dead at the scene.
Investigators learned Patton was with a group of people when the suspect got out of a car and fired shots at the group. Patton was the only person struck. The suspect got back into their vehicle and drove away.
Police have not identified a suspect or motive for the shooting.