This is an archived article and the information in the article may be outdated. Please look at the time stamp on the story to see when it was last updated.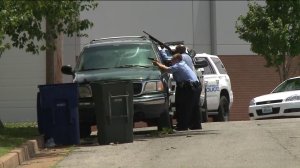 ST. LOUIS – Five people were shot, two fatally Sunday afternoon in North St. Louis.
All of the victims range in age from 14-40 according to Sgt Brian McGlynn.
According to McGlynn, officers responded to the 1900 block of North 14th Street just after noon on Sunday for reports of two people being shot.  When officers arrived, they found two women suffering from gunshot wounds.  Those women were transported to the hospital where they are still being treated.
McGlynn says while officers were there, officers heard another shooting at the residence directly next door.  Officers were not able to make contact with anyone inside, so hostage negotiators were brought in.  After the house was cleared, police searched the residence and found three people with gunshot wounds.  One man who was pronounced dead at the scene, one female was also pronounced dead at the scene and a third woman was taken to the hospital where she is being treated.
"The investigation is just beginning" McGlynn said.  "We don't have any idea of who shot who yet, it appears to be that they have some kind of relationship whether it be family, domestic type of relationships we don't even know the extent of those relationships are in fact we haven't identified the people yet" he said.
McGlynn says right now, police don't have any information about anyone else being involved.  They don't have information about a shooter or motive.
McGlynn also says police believe all of the victims know each other, but the extent of their relationship is still under investigation.
"All of these shootings are horrible" McGlynn said.  "This one is going to be- I'm sure once we find out who these people are and what the relationship is- it's going to be very tragic because we can only it looks like everybody is in one way connected. Whether it be family or loved ones we don't know" he said. ​