This is an archived article and the information in the article may be outdated. Please look at the time stamp on the story to see when it was last updated.
ST. LOUIS, MO — The Lieutenant Governor of Missouri is suggesting steps to remove State Senator Maria Chappelle-Nadal from office. Thursday she posted, and then later deleted, a Facebook comment saying she hoped President Trump would be assassinated. This had many elected officials calling for her resignation. The Secret Service is now investigating her.
Lieutenant Governor and President of the Missouri Senate Mike Parson says that Article III, Section 18 of the Missouri Constitution allows for her removal for calling for the assassination of the President of the United States.
"Many Republicans and Democrats have asked for her resignation. For her to continue to serve as a Missouri State Senator is totally unacceptable. There are ways to remove her from office but I think she should take responsibility for her actions and resign," said Missouri Lieutenant Governor Mike Parson. "As the President of the Missouri Senate I have the ability, the right to call on my fellow Senators to expel her from the Missouri Senate; which I plan to do if she does not resign."
Governor Eric Greitens told his Facebook fans that he believes Chappelle-Nadal  should step down.
Chappelle-Nadal says she will not step down from office. Saying Thursday that she isn't going anywhere.
"No. Absolutely not. I told people if there are legislators cheating on their wives and smoking marijuana in their offices and they're not being asked to resign, but I am for a mistake I made and owned up to," she said.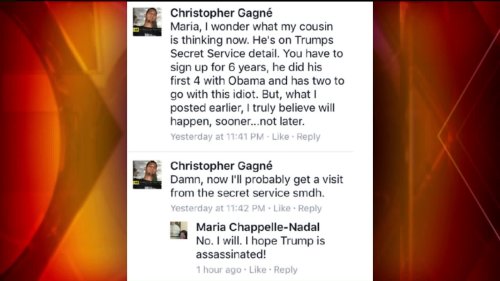 The state senator's comments came around midnight in an exchange with a person named Christopher Gagne. The post was deleted by the morning, but the screengrab had been saved and shared.
In a statement to our news partners at the St. Louis Post-Dispatch, Chapelle-Nadal said, "I didn't mean what I put up. Absolutely not. I was very frustrated…Things have got to change."
She later wrote, "I put that up on my personal Facebook and I should not have."
Lieutenant Governor Mike Parson joined the chorus calling for Chappelle-Nadal's resignation Thursday. He released this statement on the topic:
"It is a total disgrace for the Senator to call for the assassination of the President or any elected official. I believe she should immediately resign from her position, as this is conduct not befitting of a State Senator or a Missourian," said Lieutenant Governor Mike Parson.
"I will not sit idly by and let this kind of behavior transpire in our state, especially from members of our government. As a veteran of the armed forces, I was personally offended that a person elected to represent Missourians would call for the assassination of our Commander-in-Chief," Lieutenant Governor Parson said.