This is an archived article and the information in the article may be outdated. Please look at the time stamp on the story to see when it was last updated.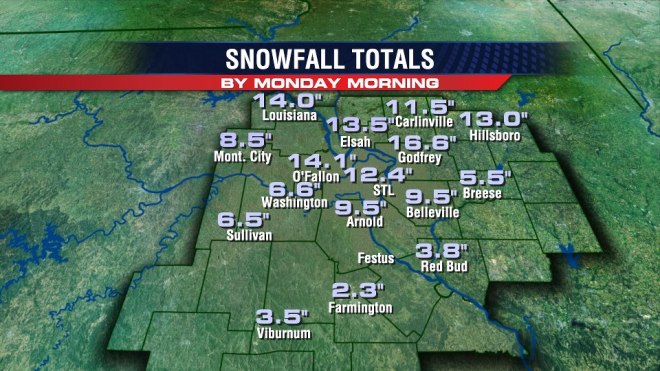 ST. LOUIS, MO (KTVI)- The early Spring snow storm that coated the St. Louis region in a blanket of white Sunday is one for the record books.  Lambert-St. Louis International Airport, the location where official weather data is recorded, saw 12.4″ of snow. That is officially the highest calendar day March snowfall and the second highest calendar day snowfall ever for St. Louis according to the National Weather Service.
Of course, many communities along and north of I-70 in Missouri and Illinois received even more snow. Godfrey, IL reported 16″ and O'Fallon, MO reported more than 14″. For a full list of snowfall reports to the NWS, click here.
Thundersnow was a big part of these higher snow totals. Thundersnow is simply a non-severe thunderstorm where snow falls instead of rain. Snowfall rates are usually very high with this phenomena.
The big storm has moved east, but periods of light snow and flurries will continue through Monday night. Additional accumulation is not expected.