This is an archived article and the information in the article may be outdated. Please look at the time stamp on the story to see when it was last updated.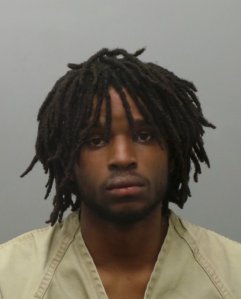 NORMANDY, MO (KTVI) - Police have charged a man after a fatal shooting on a MetroLink train overnight. It happened around 11:15 p.m. at the UMSL South Station located at 7790 Natural Bridge.
The St. Louis County Prosecuting Attorney's Office has charged Djion Oates, 18, with second-degree murder, armed criminal action, and one count of unlawful possession of a firearm.
Oates is from the 6700 block of Thurston in Berkeley. Court records indicate a prior arrest as an adult. In August, 2014 Florissant Police arrested Oates. He was charged with first-degree robbery in that case. Records indicate he pleaded guilty and was sentenced to 15 years in prison. However, he was eventually given probation.
Detectives said Oates and the victim, 22-year-old Jesse Boone, got into a fight on the back of the train as the train was pulling into the station. Boone was pronounced dead at the scene.
Oates allegedly ran off when the train stopped. He was apprehended a short time later by responding officers. A firearm was recovered at the scene. Police have not established a motive for the killing.
Oates is being held on a $500,000 cash-only bond.
According to our news partners at the St. Louis Post-Dispatch, Boone had previously been arrested for attacking a MetroLink rider with a group of men in December 2015. Boone was charged in March 2016 and sentenced that October. It was not immediately known how much time—if any—Boone served in prison for the attack.
"I had a long telephone conversation this morning with Chief Jon Belmar in the county. They are doing everything that they can. Fortunately in this case, the suspect was arrested rather quickly. This is a terrible tragedy, what happened, and this is the second one in the last month. We are working very closely with St. Louis County police and members of other jurisdictions in order to do everything we can to make the system safe," said Jon Nations, CEO and President of Bi-State Development Agency.
The shooting at the University of Missouri St. Louis campus comes less than a month after 57-year-old Mac Payne as shot and killed at the Metrolink stop at Busch Stadium.