This is an archived article and the information in the article may be outdated. Please look at the time stamp on the story to see when it was last updated.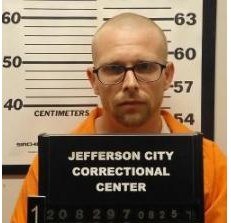 ST. LOUIS, MO — An Arnold police officer was recovering Tuesday night after surgery for a bullet wound to the back of his head. At last report he was in stable condition.
Officer Ryan O'Connor, 44, was bringing a burglary suspect to the police station. Somehow the suspect got hold of gun and shot  O'Connor in the back of the head.
It all began as a burglary call in an Arnold neighborhood.  Matt Faller said when he when he arrived home his pregnant wife told him a man had been looking into their windows. Matt sent him on his way.  Faller said, "He said I just gotten out of jail. I go I don't care where you been and what you did I don't want you in my backyard."
Police responded and began searching for the suspect, they heard gunshots from a wooded area but were not sure if they were the target. Minutes later, and not far away, Chad Klahs, 28, was arrested outside a pawn shop.
A woman who works next door at the Ace Hardware, and does not want to be identified, watched the arrest. She said Klahs was handcuffed. She also said, "My grandfather was a city police officer a couple years ago, so it hits close to home."
During Klahs' arrest police recovered a handgun that they say it had been stolen in a home burglary.  They didn't know, at the time, he had stolen another gun from a vehicle and would use it minutes later.
Jefferson County Sheriff Department Captain Gary Higginbotham said, "There's always a possibility of assault on law enforcement."
Somehow Klahs was able to shoot officer O'Connor as they arrived at the police station and then Klahs was shot and died a few hours later. How did the suspect get the gun into the police car? And, after shooting O'Connor did he then kill himself?  Captain Higginbotham said, "We're still trying to be sure what happened."
Now officers pray and hope for the best for one of their own.  Captain Higginbotham said, "He's just dedicated to his family, just dedicated to his job a great guy all the way around."
He says the officer's gun was still in his holster. Officer O'Connor has been a police officer for 20 years, three of them in Arnold. The Jefferson County Sheriff Department is in charge of the investigation