This is an archived article and the information in the article may be outdated. Please look at the time stamp on the story to see when it was last updated.
ST. LOUIS (KTVI) – For the first time in 30 years, the Saint Louis Zoo is home to Tasmanian devils.
The two sisters, Yindi and Jannali, will live in the new $500,000 habitat inside Emerson Children's Zoo. The habitat includes more than 2,000-square feet of living space, two dens, a fresh water pond, and plenty of soil for the devils to burrow.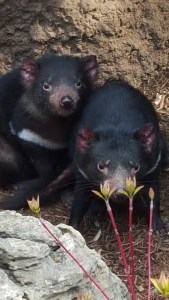 Tasmanian devils are the world's largest carnivorous marsupials and are native to Tasmania, the island state located off the southeast coast of Australia. The wild population has been in drastic decline since the immergence of devil facial tumor disease in 1996. It's spread when devils bite each other in fights, making it one of only four known transmissible cancers in the world.
Yindi and Jannali, both two years of age, will serve as ambassadors to raise much-needed awareness about saving the species.
The habitat opens to the public on Thursday, April 28.