This is an archived article and the information in the article may be outdated. Please look at the time stamp on the story to see when it was last updated.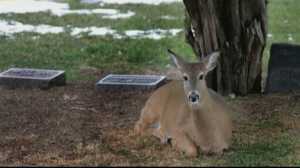 KANSAS CITY, Mo. (WDAF) – A teen in Missouri is facing a stiff fine and backlash from his community for shooting and killing a deer in a Kansas City cemetery.
But this wasn't just any deer.  It was Ella the deer, who was born, raised and never left the cemetery.
A spokesman for the cemetery says the deer lived there and wascomfort to grieving families.
To read the full story of Ella the deer, click here.