This is an archived article and the information in the article may be outdated. Please look at the time stamp on the story to see when it was last updated.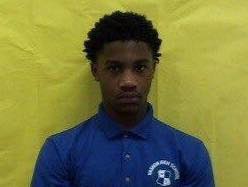 ST. LOUIS, MO (KTVI)- A 15-year-old boy who was fatally shot by a St. Louis police officer after a chase on the city's north side has been identified.
Jorevis Scruggs, 15, was shot in the 3200 block of St. Louis Avenue Tuesday around 11:30 a.m. According to our partners at the St. Louis Post-Dispatch, Dr. Michael Graham, the medical examiner, said the preliminary cause of death was a single shot to the back.
Scruggs was a passenger in a car that was believed to be stolen during an armed carjacking Monday night in the Jeff Vander Lou neighborhood.
During a press conference, St. Louis Police Chief Sam Dotson said officers began following the vehicle, with three individuals inside. After pulling into an alley, two passengers exited and attempted to flee. Dotson says officers initially got out to give chase, but the front seat passenger, Scruggs, displayed a handgun and pointed it at them.
"Fearing for his safety, one of the officers pulled out his service weapon and opened fire," said Dotson.
Dotson says the teen was struck once and attempted to run away but collapsed after running 30 or 40 yards. He was pronounced dead at the scene.
Video of officers performing chest compression on Scruggs has been circulating across social media.
It's unclear how many shots were fired from the officer's weapon. Witnesses say there were at least six.
Authorities have not confirmed whether or not Scruggs opened fire. They did say a gun was recovered at the scene.
According to Dotson, Scruggs wasn't shot for running. He was shot for pointing a gun at a police officer.
The other suspect, who exited the vehicle, was tased and taken into custody.
The stolen vehicle was found abandoned a short time later roughly a mile from the scene. The driver remains at-large.
The officer who shot and killed Scruggs has been with the department for more than seven years. When asked by reporters, Dotson said the officer is Caucasian.
Scruggs was a student at Vashon High School until January, when he was transferred to Innovative Concept Academy.