This is an archived article and the information in the article may be outdated. Please look at the time stamp on the story to see when it was last updated.
ST. LOUIS, MO (KTVI) – Dateline NBC aired a report on a Missouri man who was acquitted in November of his wife's brutal murder.  Many people want to know more about the case.
A FOX 2 reporter broke the story about Russ Faria's murder trial. Chris Hayes award winning work on this case brought it to the national spotlight.  He was the only reporter at Faria's first trial.
A 2013 trial led to a life sentence for Faria for the stabbing death of his wife, Betsy. She was killed December 27, 2011, stabbed more than 50 times with a steak knife left in her neck.
Faria called 911 to report he found his wife dead. He said he'd just arrived at his Lincoln County home after leaving a movie and game night with friends in O'Fallon.
Want to know more about this case?  Read these stories.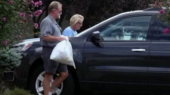 Pam Hupp says she's not guilty. That's according to her attorney at Hupp's first court appearance. The Judge barred the public from her arraignment, citing safety concerns. The hearing was held inside a jailhouse courtroom. Hupp faces a first degree murder charge in a bizarre plot prosecutors say she hatched to try to frame someone […]
ST. CHARLES COUNTY, MO (KTVI) – Pam Hupp stood before a judge Friday for the first time since the St. Charles County Prosecuting Attorney's Office charged her in a murder plot. Judge Phillip Ohlms barred the media from entering the courtroom Friday because of security reasons because this courtroom is inside the jail. That is […]
O'FALLON, MO (KTVI)- Police have released a mugshot of accused killer Pam Hupp. She had been hospitalized after police say she stabbed herself in the neck and wrist with an ink pen. Hupp is charged with first degree murder and armed criminal in the death of Louis Gumpenberger. Her bail is set at $2 million.
U.S. Attorney Richard Callahan says it's not an investigation, just a review of the 2011 Betsy Faria murder. Callahan added that Pam Hupp`s recent murder charge, in a different case, has not changed his office's approach. Callahan said, "The focus of our review is not on an individual, it`s simply on the murder of Betsy […]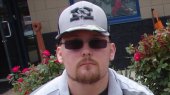 O'FALLON, MO (KTVI) – Police want to know if Pam Hupp was looking for other potential victims before she allegedly lured a man with disabilities, shot him and reportedly planted fake evidence. Investigators are focusing on homes and businesses near where they believe Hupp tried luring a different woman six days before her alleged plot.  […]
O'FALLON, MO (KTVI) – The star witness in a sensational murder case is now charged with a separate murder.  Our cameras exclusively captured Hupp's arrest and arrival at the police department. Police say Pam Hupp killed an innocent man hoping to frame an old adversary. Pam Hupp's story sent Russ Faria to prison in 2011 […]
O'FALLON, MO (KTVI) – The murder charges against Pamela Hupp was no surprise to Clayton based attorney Joel Schwartz.  Schwartz got to know Hupp during the murder trial of his client, Russ Faria.  Schwartz said all the evidence in the murder of Betsy Faria pointed to Hupp, but prosecutors charged Russ Faria in the death […]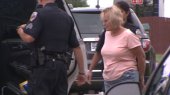 O'FALLON, MO (KTVI) – The woman who shot and killed a man in her O'Fallon, MO home last week has been formally charged.  St. Charles County Prosecuting Attorney Timothy Lohmar has charged Pamela Hupp, 57, with first degree murder and armed criminal action in the August 16, 2016, shooting death of  33-year old Louis Gumpenberger. Hupp […]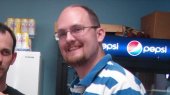 O'FALLON, MO (KTVI) – The autopsy shows a man found dead inside Pam Hupp's O'Fallon, Missouri home was shot at least twice. That man, Louis Gumpenberger, was disabled by a car accident years ago. Now we're learning more on the man Hupp accuses of trying to burglarize her home. Gumpenberger, 37, was scheduled for a […]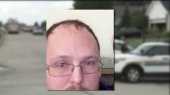 O'FALLON, MO (KTVI) – The man who was shot and killed by Pamela Hupp in her home earlier this week died after being shot in the chest multiple times, an autopsy said. Investigators have classified the death of Louis Gumpenberger, 37, as a homicide. He was killed Tuesday inside Hupp's O'Fallon home. Hupp told police […]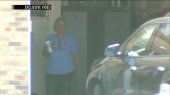 O'FALLON, MO (KTVI) – Questions tonight about the man shot and killed inside the home of Pam Hupp.  O'Fallon, MO police say 33-year-old Louis Royce Gumpenberger died Tuesday after the shooting, which followed a reported burglary in progress. Hupp was a former witness in a high profile murder case.  She and her husband returned from […]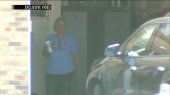 O'FALLON, MO (KTVI) – Police confirm Pam Hupp shot and killed a man she reported burglarizing her home. Hupp was a central figure in a highly publicized murder trial covered extensively by FOX 2. Louis Royce Gumpenberger, 33, is the man O'Fallon police say died in that shooting. The Medical Examiner's Office reports that it was […]
ST. CHARLES COUNTY, MO (KTVI) – A St. Charles County Judge is now considering a fraud claim brought by Betsy Faria's daughters. Faria was murdered four days after signing over a life insurance policy to her friend, Pam Hupp. Police interviewed Hupp the morning after the murder. She told investigators Betsy signed over a $150,000 […]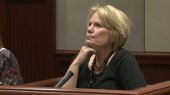 ST. CHARLES, MO (KTVI) – The admission came out in new testimony from a civil trial involving Pam Hupp.  A St. Charles County Judge will decide a lawsuit brought by Betsy Faria's daughters to get their mom's $150,000 in life insurance proceeds.  Betsy signed over the policy to Pam Hupp just days before she was […]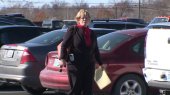 (KTVI) – Audio interviews raise questions about how investigators handled the state's star witness in the Faria murder retrial.  Hours of interviews, released after the November acquittal, reveal officers suggested a new theory to her, more than three years after Betsy Faria's murder. On the stand during trial, a Lincoln County Detective Sergeant acknowledged police […]
LOS ANGELES, CA (KTVI) – The story of the Faria murder trial will take the national stage this week. A judge acquitted Russ Faria November 6th. The full story will appear on Crime Watch Daily, where I traveled with Russ Faria. It seems like a lifetime ago when I sat down with Russ Faria in […]
(KTVI) – Russ Faria said, 'I`m truly free right now.  There is a lot of stress that I had (after my release from prison) and carried with me and even had more stress all the way up until Friday afternoon.  That`s gone.' Judge Steven Ohmer acquitted Russ Faria Friday afternoon in a retrial.  A jury […]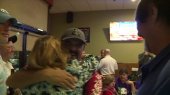 ST. CHARLES COUNTY, MO (KTVI) – Russ Faria and his supporters say that even hours after the verdict, it`s still sinking in that he`s free. The celebration comes after a four year wait. Faria says the final few minutes leading up the verdict felt like an eternity. "You felt like you could feel your heart […]
TROY, MO (KTVI) –  On Friday, the judge in the retrial of Russ Faria found him not guilty in his wife's 2011 stabbing death . Faria had previously been convicted of murder in a 2013 jury trial. Both the prosecution and the defense gave their closing arguments Friday morning. Russ Faria reported finding his wife, Betsy Faria, […]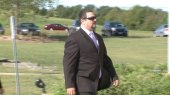 LINCOLN COUNTY, MO (KTVI) – The prosecution rested Thursday afternoon in the Faria murder retrial, without putting Pam Hupp on the stand. Russ Faria is accused of stabbing his wife 55 times in 2011. Thursday's proceedings featured several courtroom shockers, including a report that Pam Hupp told police she was Betsy Faria's secret lesbian lover. […]
TROY, MO (KTVI) – Nearly four years after the investigation began, a cybercrimes unit found a type written note on a laptop owned by Russ and Betsy Faria. The Lincoln County prosecutor accuses Russ of stabbing his wife 55 times in December, 2011. A cybercrimes investigator found the note in September of this year. The […]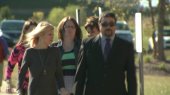 TROY, MO (KTVI) – Newly revealed evidence brings a dramatic twist in the re-trial of Russ Faria. It's dozens of photos taken inside the Faria Home, one week after the murder. More than 100 pictures raise questions about where blood was not found at the grisly crime scene. In day two of the re-trial, interrogating […]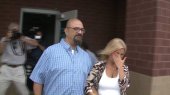 TROY, MO (KTVI) – The end of the first day of the Russ Faria murder trial brought a big turn of events. Faria is accused of stabbing his cancer stricken wife 55 times in 2011. The last witness Monday was CSI agent Amy Buettner, who was on the original Major Case Squad of Greater St. […]



TROY, Mo. (AP) – An eastern Missouri man once convicted of murder in his wife's 2011 stabbing death is getting a retrial. The St. Louis Post-Dispatch reports that Russell Faria's bench trial began Monday in Lincoln County. St. Louis Circuit Judge Steven Ohmer alone will decide the case. During opening statements. a prosecutor argued that an […]




TROY, Mo. (AP) _ A Lincoln County man formerly convicted of murder in his wife's 2011 stabbing death will be back in court for a retrial Monday. The St. Louis Post-Dispatch reports that Russell Faria will appear in a bench trial in which St. Louis Circuit Judge Steven Ohmer alone will decide his case. Ohmer […]




LINCOLN COUNTY, MO (KTVI) – An unexpected turn in court Thursday in the case of a Lincoln County man accused of killing his wife. Russ Faria's attorney, Joel Schwartz, got right to the point at Thursday's hearing – he wanted the judge to decide his client's fate and not involve a jury. Faria is preparing […]

LINCOLN COUNTY, MO (KTVI) – Former murder convict Russell Faria has been out of jail now for one week.  He's already working a new job.  Only on FOX2 last week, we showed you his release on bond as he learned he`ll get a new trial.  It followed more than a year of investigations in our […]




TROY, MO (KTVI) – Former murder convict Russ Faria walked out of prison after more than three years.  He bonded out of the Lincoln County jail Monday after learning he`ll get a new trial. For the first time since his wife Betsy was stabbed to death in 2011, Russ Faria talked outside of a jail cell. Faria didn`t […]




TROY, IL (KTVI) – Former murder convict Russ Faria walked out of prison after more than three years. He bonded out of the Lincoln County Jail Tuesday after Russ Faria starts over with a brand new trial this November. This news comes after months of investigation in a FOX 2 News partnership with the St. […]




TROY, MO (KTVI) – Lincoln County Prosecutor Leah Askey argued to the Judge that "despicable" was the nicest word she could say about the defense`s motion. St. Louis Judge Steven Ohmer, who was appointed to take over the case, disagreed. He ordered a new trial that is set for November 2nd. Russ Faria`s sister was […]




(KTVI) – A Lincoln County circuit judge has 90 days to hold a hearing and decide if Russell Faria gets a new trial. Faria was convicted of stabbing his wife to death at their Lincoln County home in December 2011. He's serving a life sentence. His lawyers today filed a motion seeking a new trial, […]




TROY, MO (KTVI) – Russ Faria`s attorney asked for a new trial and the Missouri Court of Appeals sent a message Tuesday that he might get it. This in-depth follow-up coverage in a FOX 2 joint investigation with the St. Louis Post Dispatch. The appeals court sent the case back to Lincoln County because of […]




(KTVI) – Is the wrong man behind bars for murder?  The attorney for Russ Faria says he`s about to file an appeal. Joel Schwartz said, "Every day that this man stays in jail is a travesty of justice. He's an innocent man confined in prison right now." Schwartz is the defense attorney for Russ Faria.  […]