This is an archived article and the information in the article may be outdated. Please look at the time stamp on the story to see when it was last updated.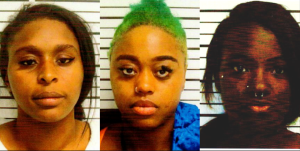 LAKE ST. LOUIS, MO — Three suspects are under arrest after attempting to steal nearly $7,500 in items from a Lake St. Louis Victoria's Secret. They were apprehended after their getaway vehicle caught fire during a police chase. Shomyia Renay Hemphill, Britanny Renae Bobo and Lamonica Monique McGee are charged with felony stealing and fleeing
Court documents say that the three suspects entered Victoria's Secret through the "Pink" entrance Wednesday. They began stacking clothing spread out on display tables. They scooped up the items and then ran out of the door.
The three suspects then got into a maroon Nissan Altima and left the area. A Victoria's Secret employee called police. Officers spotted the vehicle near the exit of the Meadows Shopping Center.
The vehicle sped off when police tried to pull it over. Police say the suspects drove into oncoming traffic on I-64. The vehicle then drove over a concrete median to avoid a head-on collision and sped onto eastbound I-64.
The Altima's tires began to deteriorate during the police chase because of damage from striking the curb. The car was on its rims by the time it came to a stop in Frontenac and caught fire.
Two of the suspects fled the scene. They were found and arrested a short time later. Bobo did not flee and admitted to stealing several items from the Lake St. Louis Victoria's Secret.