This is an archived article and the information in the article may be outdated. Please look at the time stamp on the story to see when it was last updated.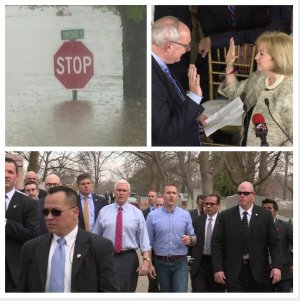 ST. LOUIS, Mo. – As we prepare to ring in 2018, it's important to take stock of what's happened over the past 12 months.
The year 2017 saw some unprecedented changes in important positions of power here and around the state. A governor with no prior elected political experience, the first female mayor elected in St. Louis, and the first time since the Civil War that a locally-controlled St. Louis Metropolitan Police Department got to choose a new chief.
We lost Chuck Berry, Dick Gregory, Bill Wilkerson, and Robert Guillaume, among some boldface names locally and nationally. And the region saw visits from President Donald Trump and Vice-President Mike Pence.
Here's a look at ten of the moments, events, and issues which dominated the landscape in 2017.
COOL MOMENT:

What were you doing on August 21, 2017? Around St. Louis and Southern Illinois, there's a better than good chance your eyes were focused on the skies, For 90 seconds, we were in a position to see totality, just the faint outline of the sun. The event provided a chance for communities all along the eclipse's path to come together to share the special celestial moment. The next opportunity like it won't happen until April 8, 2024.
COOL MOMENT: HONORABLE MENTION 
After years of campaigning by team officials and clamoring by fans, the St. Louis Blues finally hosted a game outdoors as part of the NHL's Winter Classic. On January 2, 2017, more than 46,000 fans packed into Busch Stadium to watch the hometown team defeat the Chicago Blackhawks 4-1.
FLOODING: The heavy rains of late April and early May 2017 saturated our region and flooded river communities along the Big, Bourbeuse, Cuivre, Meramec, Missouri, and Mississppi Rivers. The flooding, much of it at or near historic levels, came just 18 months after a previous devastating flood in late 2015. Communities like Eureka and Union were at times cut off at times. Historic Eureka's business district specifically was in hand-to-hand combat in efforts to sandbag vulnerable buildings. Estimates place the cost near $86 million, with hundreds of damaged structures.
THE TEAM THAT ALMOST WAS: St. Louis has long laid claim to being "a cradle" of American soccer dating back to the 1950 World Cup, when five of the 11  players on the roster which upset England hailed from here. The city is home to the Hermann Trophy, given annually to the top men's college soccer player, in honor of Bob Hermann, a longtime soccer league executive. Strong public and private high school s producing loads of Division I caliber talent, with many now playing in the MLS or overseas. Professional and National Team exhibition games staged here have drawn huge crowds. So when Major League Soccer announced expansion plans, St. Louis was all but told: build a stadium and you're in. A potential ownership group proposed a stadium near Union Station, but only if city voters approved $60 million to help pay for it by raising a use tax. It failed on the April ballot.  It appears any chance of bringing the MLS to St. Louis hinges on the ability to reach a regional solution to fund a stadium.
AMAZON HQ HUNT: The Seattle-based online giant set off a business race of epic proportions in September when it announced it was looking for a home for a second corporate headquarters, or HQ2. A month and a half later, the St. Louis region joined 237 other attempts to answerthe company's RFQ. At stake are as many as 50,000 jobs and billions of dollars in private investment.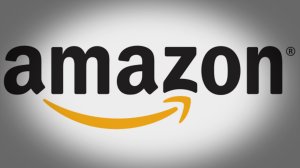 While we still don't know a lot of the specifics, the preferred St. Louis regional bid includes a joint venture with St. Clair County, IL that could be connected by a bridge. The state of Missouri has also submitted a statewide proposal that relies heavily on coming innovations in transportation that could make a commute between Kansas City, Columbia and St. Louis amount to a matter of minutes instead of hours. A precise timeline for winnowing the field of entries is unknown.
CONGRESSIONAL SHOOTING: The eyes of the nation were on the Metro East in June when James Hodgkinson, a Belleville resident who had moved to the Washington, D.C. area, opened fire on a field where members of Congress where practicing for an annual charity baseball game. Representative Steve Scalise (R-LA) was one of four shot and suffered the most severe injuries.  Hodgkinson died from his injuries soon after a shootout with authorities. The shooter, a liberal activist, had a lengthy history of visits by law enforcement to his St. Clair County home, but no interaction with his representatives in Washington that could have predicted what would happen later. Scalise returned to Congress in late September.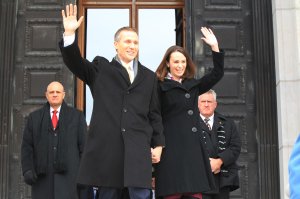 GOVERNOR GREITENS: Missouri voters elected Eric Greitens in November 2016 and he was sworn in as the state's 56th Governor in January 2017. He came to the job with no previous elected political experience and has continued to stake his claim to the outsider label by "taking on career politicians." Thats a tactic which he continued to press during his first legislative session, where he signed Republican-backed legislation to make Missouri a "Right To Work" state, but still found himself bucking against his own party on other legislative proposals and initiatives, like his push to remove the State Education Commissioner. The Governor has often worked around the "mainstream newsmedia,"  with policy announcements or explanations more likely to be made via Facebook Live than a press conference. He has also faced criticism for allegations of secrecy related to an outside political action committee run by his supporters, as well as his administration's use of a phone app that deletes text messages as soon as they're read.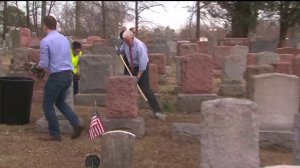 It's been no secret that Greitens has broader political aspirations than the Governor's mansion. He's spent time around the country supporting other GOP candidates and he has important allies in the White House. Former Greitens campaign advisor Nick Ayers is now Chief of Staff for Vice President Mike Pence. Most of the nation was likely introduced to Greitens in February, when he and Pence assisted cleanup efforts at a University City cemetery that had been vandalized.
MADAM MAYOR: In the spring, voters in the city of St. Louis elected a female mayor for the first time ever. Alderwoman Lyda Krewson narrowly edged Treasurer Tishaura Jones in a crowded Democratic party primary field by 888 votes and handily defeated Republican Andrew Jones in the general election.  She ran on a campaign  of improved public safety and reduced violent crime. It's a platform Krewson has advocated since entering public life after her husband was murdered in a 1995 carjacking.
One of her first acts as Mayor after being sworn in was to remove Sam Dotson as police chief on her first full day on the job. Dotson had been St. Louis' top cop since December 2012, and briefly entered the Democratic primary this spring before opting against a run. Former Mayor Francis Slay was critical of Dotson's entrance into the race while retaining his post, saying the city deserved someone willing to devote full attention to running the department. While deemed as a "retirement," Dotson is under contract with the city until April 2018 at his Chief's salary as a consultant.
STOCKLEY TRIAL: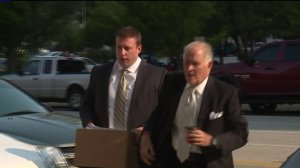 In August, former St. Louis police officer Jason Stockley was put on trial over the December 2011 shooting death of Anthony Lamar Smith.
Stockley fatally shot Smith in December 2011 after a three-mile police chase through city streets. The incident started as a police stop following a reported drug sale. Surveillance video showed officers block Smith in, who then backed his vehicle into a police car as the officers approached. Stockley ran after the suspect's car, firing seven shots with his service pistol. Stockley is also recorded on dash-cam video saying "we're killing this motherf*****, don't you know,"
The prosecution called 17 witnesses during the five-day trial which ended August 9. Prosecutors alleged that Stockley planted a gun on the scene to justify the shooting. Stockley testified at his own trial that the shooting was a matter of self-defense. The defense presented only one other witness.
St. Louis Circuit Judge Timothy Wilson, who presided over the bench trial, found that Stockley was not guilty.  His ruling read in part, that "the court does not believe Stockley's conduct immediately following the end of the pursuit is consistent with the conduct of a person intentionally killing another person unlawfully."
The decision to charge Stockley came in 2016, due to new evidence that prosecutors said emerged in the case. The charging decision came in the context of a "post-Ferguson" environment related to officer-involved shootings, particularly ones involving white officers and black suspects. (Stockley is white; Smith was black).
Anticipation about the decision was intense for several weeks, and drew calls for calm from Smith's family and elected leaders, from Mayor Krewson to
Governor Greitens.  But news of the not guilty decision on September 15 set off a disruptive round of protests around the region, and included several days of sometimes violent action that damaged businesses and brought demonstrators to Mayor Krewson's home. Interim Police Chief Lawrence O'Toole's handling of the police response to the protests was also the source of criticism, especially when officers reportedly appropriated demonstrators' chants of "Whose Streets? Our Streets!"
The climate has re-ignited questions over how officer-involved shootings are investigated in St. Louis. Former Chief Dotson formed the Force Investigation Unit in 2014 to handle such cases, but in the wake of the Stockley verdict Circuit Attorney Kim Gardner is among those formally calling for a separate entity outside the police department's jurisdiction to do it.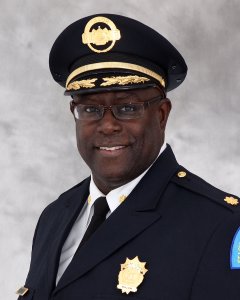 POLICE CHIEF: For the first time since the Civil War, a locally-controlled St. Louis Metropolitan Police Department had a new chief hired. On December 28, the city announced the selection of John Hayden as Dotson's permanent successor. Hayden, a Major in the department and a 30-year veteran of the force, was one of three internal candidates to make up the list of six finalists. As Chief, Hayden will be tasked with rebuilding trust with many in the community, including those activists who have taken to the streets following police shootings . He must also tackle solutions for a homicide count that for the first time in two decades has surpassed 200 in a single year.
CRIME: In July, the Greitens administration brought in resources from the Highway Patrol to help crime-fighting efforts within city limits, a move which has produced thousands of tickets and scores of arrests. Efforts to prosecute violent crime at the federal level have been expanded with new federal prosecutors added to the fight.  As concerning at the homicide statistics are, so too are the almost daily stories of armed carjackings, which like in the case of De Smet Jesuit assistant football coach Jaz Granderson, also turned deadly. And it isn't just a St. Louis city problem. Violent crime numbers spiked this year in St. Louis County as well.