This is an archived article and the information in the article may be outdated. Please look at the time stamp on the story to see when it was last updated.
ST LOUIS, MO (KTVI)- As 2016 draws to a close, it's time to take a look at some of the big stories which will be in the headlines. We can't predict them all, and surely there are some which will come out of nowhere to surprise us. Consider this the first draft of the year to come (in no particular order).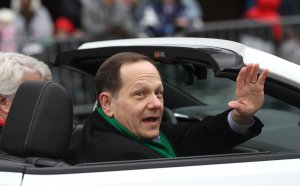 The St. Louis Mayor's Race: Francis Slay's decision not to seek a fifth term next spring means for the first time since 2001, someone else will be in charge at City Hall. The move has drawn a crowded field of contestants into the race, including Lewis Reed, Lyda Krewson, Antonio French and Jeffrey Boyd from the Board of Aldermen, Treasurer Tishaura Jones, among others. State Senator Jamilah Nasheed is raising money for a bid but has not formally launched a campaign.
Governor Greitens: Missouri voters elected a new Governor who will be sworn in next month without previous experience in elected office. Eric Greitens bested a crowded primary field and won a bruising general election campaign, running on a reform agenda without having laid out much in the way of policy specifics. With a large GOP majority in both houses of the state legislature, Right To Work legislation is already one of the issues sure to be tackled. The high profile armed robberies of both the incoming First Lady Sheena Greitens and new state representative Bruce Franks in St. Louis figure to put a renewed focus on tackling crime in the city.
NFL to MLS: The incoming Greitens administration has already come out in opposition to taxpayer funding for a proposed soccer stadium to house a Major League Soccer franchise. When the Rams left town in January, St. Louis quickly became more than just a sentimental pick for a future expansion team, considering the city's long legacy in the sport. After lots of speculation, an ownership group and a potential soccer-focused stadium site near Union Station was announced late this year. The plan hinges on $40 million in state tax credits and $80 million subject to an April public vote in St. Louis. A state panel with Greitens' appointees could turn down the tax credit bid. It's an issue that current Governor Jay Nixon has continued to lobby on in his final days in office. The MLS has a January 31 deadline to accept expansion applications, with a spring-summer decision expected on which two teams it will add as soon as 2020.
Bayer-Monsanto Buyout: After on-again, off-again talks about possible merger scenarios with various suitors, Monsanto consummated a $66 billion dollar deal with Bayer in September, pending regulatory approvals sometime in 2017. The $128 per share deal means another big name in the business will no longer have its corporate headquarters located in the St. Louis region, although the combined company's North American commercial operations will still be based here.
U.S. Steel Jobs Stage Comeback: The metro east has been rocked by layoffs in the steel industry in recent years, but U.S. Steel announced plans to bring back 200 jobs in February as hot strip mill operations come back online. The company has raised hopes that some 10,000 jobs that have been lost nationally could be restored.
Choi In Charge: On March 1, Mun Choi takes over as the next President of the University of Missouri system. Choi, currently Provost at UCONN, was selected as the permanent replacement for Tim Wolfe, who resigned in November 2015 amid racial turmoil on the Columbia campus.  Choi will need to mend fences with state lawmakers who grew frustrated with school leadership in the wake of the handling of that turmoil. He could see a quick test early with a high-profile hire if MU Athletic Director Jim Sterk decides to dismiss men's basketball Coach Kim Anderson. The Mizzou campus could also have a new Chancellor named in 2017.
Big Year For Busch Stadium: There's no need to wait for baseball season, either, with the Blues and Blackhawks hockey game being staged on outdoor ice on the Busch stadium turf.  The Cardinals will take to the diamond with a new center fielder in Dexter Fowler. Will he be the key to a return to the postseason after a one year hiatus? Can the Cardinals keep up with the World Champion Cubs?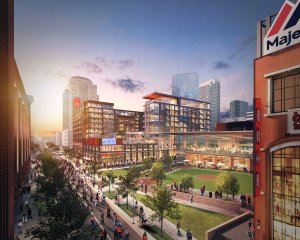 Big Year For Ballpark Village: This is also a big year for the development of the adjacent Ballpark Village. The Cardinals announced plans for a Phase II expansion, which is five times the size of Phase I and includes, apartments, office space and retail.  The team is looking for city approval to impose an additional 1 percent TDD sales tax to underwrite bonds on the project. While Phase I has been a business success story, it does have its critics, including those sitting on the St. Louis Board of Aldermen who have been opposed to subsidies that benefit some businesses and not others. Legislation is before the board now and will be considered in the new year.
From Burroughs To The Bucks, To The Boys: Ezekiel Elliott, the John Burroughs graduate who shined in three seasons for the Ohio State Buckeyes, was drafted fourth overall in the 2016 NFL Draft by the Dallas Cowboys and has taken the league by storm. He leads the NFL in rushing and TD celebrations involving a Salvation Army kettle. He was voted to the Pro Bowl as a rookie and could be a leading contender for Rookie of the Year and the MVP. Can he help lead the Cowboys to the Super Bowl in February?
Jayson Tatum Could Be Next: Former Chaminade standout and Gatorade National Basketball Player of the Year Jayson Tatum had his Duke debut delayed by a few games because of a preseason foot injury, but he's done nothing so far to suggest that he won't be ready to take his talents to the NBA sooner than later. Sooner could be as early as next summer.