This is an archived article and the information in the article may be outdated. Please look at the time stamp on the story to see when it was last updated.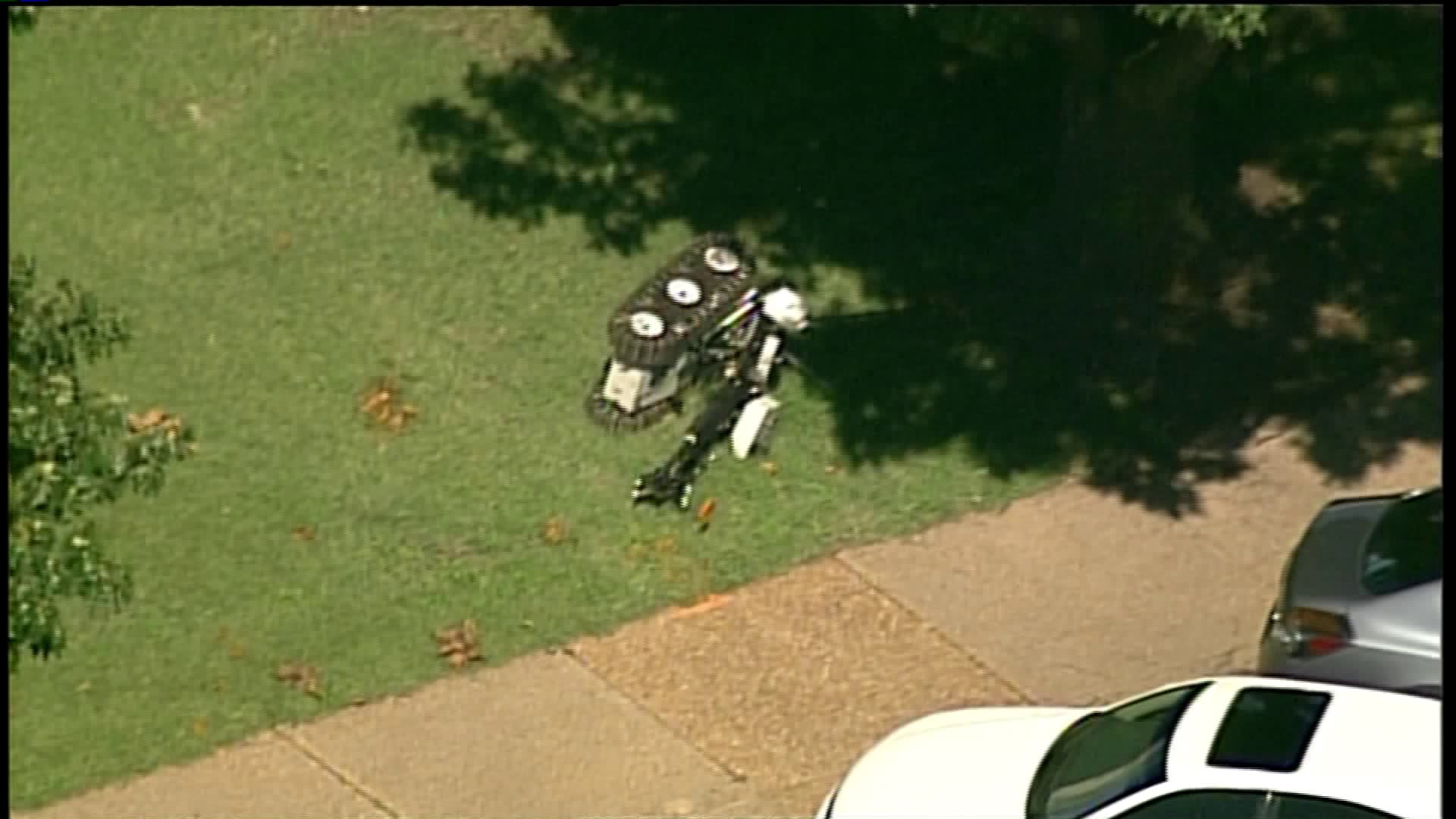 ST. LOUIS, MO (KTVI) – The Bomb and Arson unit was called to investigate several suspicious bags found St. Louis City Hall Monday morning. A bomb robot was deployed to check out the situation. A tweet sent by FOX 2 about the bomb robot is going viral. The robot fell over and the internet's collective response is making people go, "LOL."
At least one package was on a parking lot between City Hall and Scottrade Center. Three of those bags had clothing inside. Authorities believe the duffel bags may have been left by a homeless person.
SkyFOX helicopter was over the area while the Bomb and Arson Unit investigated the situation. During one point in the search the robot tipped over near a small hill.
FOX 2 tweeted, "It appears the bomb robot has tipped over at a hill."
So far there have been nearly 4,000 retweets and 5,000 favorites of the tweet. The responses are priceless. You can see them below.
City Hall was not evacuated during the investigation. It does not appear that the robot was damaged in the fall.   You could see it standing again a short time later.  Bomb & Arson investigators cleared the scene around 11:50 a.m. There were no signs of a threat.
He had a late night. pic.twitter.com/n5jY0gYkfx

— Misanthropic Lycanthrope (@UnacceptableOne) September 19, 2016
Go home WALL-E, you're drunk.

— Beau Nugget 🏀 (@Gregory__Adams) September 19, 2016
.@FOX2now pic.twitter.com/DZt1fT2DNz

— Nick Ross (@NickBossRoss) September 19, 2016
@Clintonite33 Help, it's fallen and it can't get up!

— Utah Pig Bus Tailgate (@UtahPigBus) September 19, 2016
@girlmitzi the bomb robots only known enemy, slight inclines.

— ryan (@MunchkinFunk) September 19, 2016
.@UtahPigBus @FOX2now pic.twitter.com/g383ggCjLu

— Clint Peterson (@Clintonite33) September 19, 2016

https://twitter.com/GiantEye/status/777928168669900800
^THATS NOT A BOMB BOT (BELOW) THAT IS A BOMB BOT pic.twitter.com/sD9HGLxR2r

— larry baker (@bakerlarry84) September 19, 2016
.@FOX2now You had one job. pic.twitter.com/vTW2auiG57

— Adam Hirsch (@theadamhirsch) September 19, 2016

https://twitter.com/Chris_Hornsey/status/777953561690812416