This is an archived article and the information in the article may be outdated. Please look at the time stamp on the story to see when it was last updated.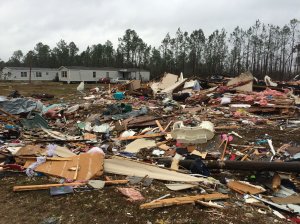 The Southeast picked up the pieces on Monday after deadly tornadoes tore through the region, killing more people in one weekend than in all of last year, and officials called out for the federal government to urgently help their devastated communities.
At least 41 reported twisters ravaged the Southern states over the weekend, killing 19 people and destroying homes, CNN meteorologists reported. At least six people were believed to to be missing in Georgia, including a 2-year-old who was caught in the tornado, officials said.
Tornadoes were reported in Louisiana, Mississippi, Alabama, Georgia and South Carolina. In 2016, tornadoes left 17 people dead across the country.
Two weather-related deaths also were reported in California and one person died in Pennsylvania, increasing the total nationwide to 22.
Chris Cohilas, the chairman of the Dougherty County Commission in southwestern Georgia, said storms slammed his county earlier in the month and these latest twisters compounded the problem.
He has implored the Federal Emergency Management Agency to get "boots on the ground" to help the community since the storms on January 2 and warnings of more to come. So far, he said, FEMA has not been responsive and he aired his frustrations with the agency.
"To get caught up in the bureaucratic red tape at a time of this amount of human suffering is disgraceful," he said at a news conference on Monday.
"I would ask that President Trump take some significant steps to cut through the bureaucratic red tape and to get us some people on the damn ground."
In an email, FEMA said the agency "is doing initial assessments of damages in Georgia today, including a flyover." At the request of Georgia officials, FEMA will start federal and state preliminary damage assessments for individual and public assistance this week, the agency said.
FEMA representatives were also recently deployed to emergency centers in Alabama, Mississippi, Georgia and Florida to support the response, and teams are on standby if needed, officials said.
Piercing screams
The barreling twisters left people stunned and communities devastated. They reminded one survivor in Georgia of a scene from a horror movie.
"All you hear is people screaming, 'Help me, help me,' " said AJ Miley, a resident of the Sunshine Mobile Home Park in Georgia, according to CNN affiliate WSB-TV.
Devocheo Williams, also at the trailer park, said he saw people "tossed through the air," the TV station reported
"All I saw was a little girl flown up and thrown in a ditch. Three seconds later, the trailer got picked up off the ground and landed on top of the mother and son," Williams said.
When the howling winds subsided, the landscape across the Southeast was dotted with overturned cars, debris and scores of damaged mobile homes.
Elsewhere, along the Eastern Seaboard and in California, millions were facing potentially disastrous storms Monday as deadly storms continue to churn.
Heavy rain and strong winds are also expected across the mid-Atlantic, with gusts near 60 mph possible in New York City and heavy snow beginning on Monday in New England.
Flash flood watches were in effect in the Los Angeles area, with small pockets of the region under mandatory evacuation orders after heavy downpours triggered minor mud and debris flows.
Deadly Georgia storms
Across the South all watches and warnings had expired and the rough weather gave way to partly cloudy skies and moderate winds on Monday.
Georgia Gov. Nathan Deal declared a state of emergency Sunday in seven southern counties, and he said the state will seek federal assistance to help storm-stricken areas. Fifteen people were confirmed dead across the state.
"These storms have devastated communities and homes in south central Georgia, and the state is making all resources available to the impacted areas," Deal said in a statement.
Deal expanded that declaration to include nine more counties on Monday.
Child 'swept' away in tornado
One of the most chaotic scenes unfolded Sunday at the Sunshine Acres mobile home park near Adel in Cook County, Georgia.
"You can imagine putting a bomb in a mobile home and having it explode. That's about what it looks like," Adel Mayor Buddy Duke said Sunday of Sunshine Acres, a community of about 60 mobile homes some 200 miles south of Atlanta.
Five people remain missing, Duke said.
"It's heartbreaking," said Edward Allen, a resident who helped search for survivors, according to WSB-TV. "It's really affected our community."
Cohilas and Dougherty County Emergency Management Director Ron Rowe, speaking to reporters, described a devastated community.
Rowe said there had been a few days of watches and warnings and before the storms authorities worked to tell people to be prepared. Cohilas said the confirmed death toll in Dougherty of four people is sure to rise.
"I know that I was up in the chopper as we were helping look for a 2-year-old child that had been swept away in the tornado," Cohilas said.
He added: "We have a lot of people that have been separated from their families that have no homes, no food, no warmth and no hope. We need a lot of help in Dougherty County. Industry and farms have been hit hard, affecting jobs."
Tornado struck Albany
Albany, Georgia, a city about 180 miles south of Atlanta, also picked up the pieces on Monday. The severe weather destroyed a trailer park there. Tufts of sofa stuffing littered the ground and cars were wedged under debris.
As the rain and wind intensified Sunday, the National Weather Service issued a rare "high risk" alert for severe thunderstorms, including strong tornadoes, for south Georgia and northern Florida. The alert, which lasted through Sunday evening, was the first of its kind issued since June 2014.
Fatal tornado in Mississippi
Preliminary damage assessments conducted in Hattiesburg, Mississippi, on Saturday showed a tornado packed winds reaching between 136 and 165 mph.
It killed four people and injured more than 50 people in Forrest County, the Mississippi Emergency Management Agency reported. Most damage was near the cities of Hattiesburg and Petal.
Mississippi Gov. Phil Bryant declared a state of emergency. In Alabama, 15 counties reported storm-related damage.
Bryant
West Coast warnings
Flash flood watches and evacuation orders have been issued for cities in Los Angeles and Santa Barbara counties, and flash flooding has been reported around Los Angeles and San Diego.
Two people are missing off the coast of Pebble Beach, the US Coast Guard said. Officials said they suspended search efforts indefinitely pending "any new information." The search was stopped due to deteriorating weather conditions.
Coast Guard Ensign Courtney Hanson said one of the missing is male, and the other is female. Both are Chinese nationals.
In northern California's Mendocino County, a 125-foot-tall oak tree fell into a single-story apartment, killing a 36-year-old woman on Saturday morning, Capt. Pete Bushby of the Ukiah Valley Fire Authority told CNN.
The woman was in bed with her boyfriend sleeping when the tree fell, officials said. The boyfriend survived, along two children in the home.
The rains weakened the oak tree, and it's a weather-related death, Bushby said.
Authorities in San Diego County are working to recover the body of an adult from a swollen creek, San Diego Sheriff's Department spokesman Ryan Keim told CNN on Sunday. Rescuers are also searching for a child in the creek.
A death in Philadelphia
In Philadelphia, a 60-year-old man was struck and killed by a sign knocked off a wall by wind shortly before 1 p.m. on Monday, Philadelphia police said. The victim was in a car sales lot when he was struck by the car company's sign. He died at the scene.
CNN's Darran Simon, Carma Hassan, Monica Garrett, Dave Hennen and Khushbu Shah, Ellie Kaufman, Chris Boyette and Melanie Whitley contributed to this report.
By Azadeh Ansari, Joe Sterling and Joe Sutton