This is an archived article and the information in the article may be outdated. Please look at the time stamp on the story to see when it was last updated.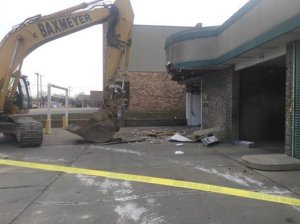 O'FALLON, IL (KTVI) - Police are looking for the man behind a massive theft, an 80,000-lb. theft.
The suspect stole it early Sunday morning from Baxmeyer Construction at a work site on Greenmount Road, drove to the Easy Street Car Wash near U.S. Highway 50 and Cambridge, Blvd., and started tearing into the building there to knock the change machines out of the brick wall, police said.
"You just can't make this stuff up," said car wash owner, Bill Spiller.  "[The excavator] was so big.  It was above the building, just massive.  You just realize how outgunned the car wash was."
Around 6 pm, a passerby caught the suspect in the act and called police.  When the suspect realized, he'd been spotted, he ran to a dark pickup truck and drove off, police said.
Police released a surveillance photo of the suspect's back.  Investigators noted the distinctive round symbol on his hoodie.
There was the no key left in the excavator overnight, said Dave Baxmeyer of Baxmeyer construction.   The suspect somehow had to get a key to get it started and had to have some type of experience with excavators to rumble a close to a half-mile through yards and parking lots to the car wash, Baxmeyer said.
"We would believe that would be the case," said Lt. David Matevey of the O'Fallon Police Department.  "This is not something that the average citizen could get in and just drive and operate efficiently.  We believe that the suspect would have to have some prior knowledge of operating an excavator."
"You never dream of this stuff," Spiller said.  "Never did I anticipate somebody would bring that type of equipment to this type of operation."
The suspect got away with a couple vending machines that sell towels and air fresheners, but that was it, Spiller said.
Anyone with information should call O'Fallon Illinois Police at: 618-624-4545 ext. 0