This is an archived article and the information in the article may be outdated. Please look at the time stamp on the story to see when it was last updated.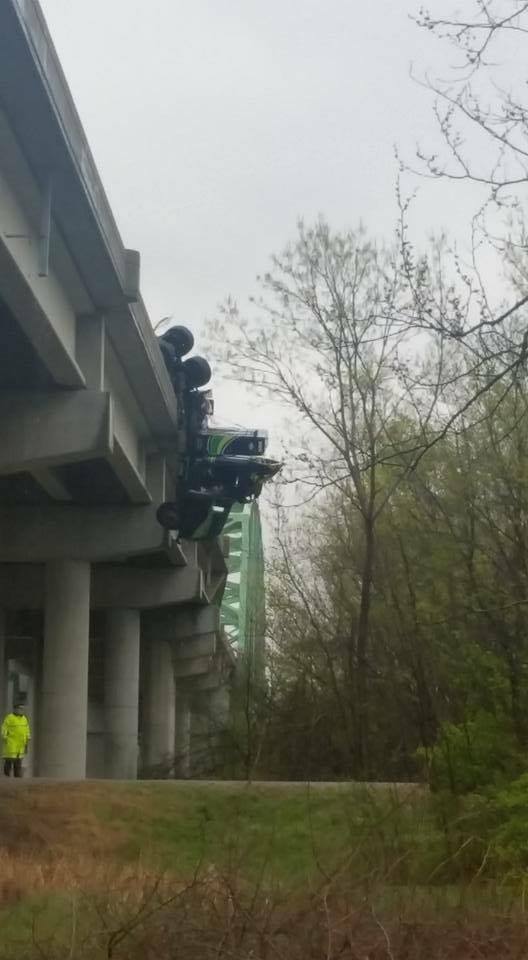 ST. CHARLES, MO (KTVI) – A tractor trailer accident left the cab of the big rig hanging over the edge of the Discovery Bridge in St. Charles.
Highway 370 eastbound near highway 94 was shut down for about three hours Wednesday afternoon because of the overturned tractor trailer truck. One lane eastbound was reopened shortly after 3pm Wednesday. This was a very dangerous situation because when the truck flipped over part of the cab of the truck was hanging over the bridge.
The driver of the truck got out of the truck, climbed up the cab, and then made it onto the bridge.
The Missouri Highway Patrol says the Hogan Company truck was carrying liquid soap which had to be offloaded onto another Hogan truck. The Highway Patrol says none of the soap leaked but there was a small diesel fuel from the truck's fuel tank.
The accident happened at about 12:20pm Wednesday involving the truck and two other vehicles. Two people in those vehicles suffered non-life threatening injuries and were taken to a hospital. The truck driver was not injured.
The wreck forcing the shutdown of all eastbound lanes of highway 370 over the bridge. Traffic was detoured off at the highway 94 and 3rd Street exit in St. CharleS. One eastbound land was reopened a couple of hours ago.
The Missouri Highway Patrol says traffic may be reduced to just one lane until after the evening rush hour. Its going to take time for tow trucks to upright the tractor trailer and get the cab off the edge of the bridge.