This is an archived article and the information in the article may be outdated. Please look at the time stamp on the story to see when it was last updated.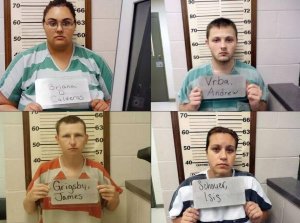 CABOOL, Mo. – Four people have been charged with murder after a transgender teenager was stabbed, burned and had her eyes gouged out.
Andrew Vrba, 18; Briana Calderas, 24, and Isis Schauer, 18, face charges of first-degree murder in the death of 17-year-old Ally Steinfeld, the Bradenton Herald reported.
James Grigsby, 25, of Houston, Missouri, was charged Monday with abandonment of a corpse and tampering with evidence in the death of 17-year-old Joseph Steinfeld. Grigsby is being held without bond. No attorney is listed for him in online court records.
Sheriff James Sigman and prosecutor Parke Stevens Jr. are not calling the murder a hate crime. According to the paper, "probable cause statements do not mention that Steinfeld was trans and  make no mention of the fact that Steinfeld was trans."
In the probably cause statement, no motive is given.
The three suspects are all charged with first-degree murder, abandonment of a corpse and armed criminal action.
Police said Steinfeld's body was stabbed, burned and mutilated at a home in Cabool, Missouri, earlier this month. Officers searched the home and found human remains in a pile and a plastic bag, according to the paper.
Each year, for the past three years, LGBT advocacy groups have tallied the killings of more than 20 transgender people in the U.S. Yet state or federal hate crime laws are rarely used to prosecute the slayings.
Now many LGBT-rights groups are questioning the effectiveness of the laws, saying they sometimes focus too tightly on individual acts without addressing underlying bias or wider violence.
The issue was in the spotlight this week as Missouri authorities investigated the killing of transgender teen Ally Steinfeld, who was stabbed in the genitals and had her eyes gouged out. Authorities insist the killing was not the result of anti-transgender hate.
Even if Missouri's hate crime law were invoked, it might not change the penalty. First-degree murder is already punishable by execution or life imprisonment.