This is an archived article and the information in the article may be outdated. Please look at the time stamp on the story to see when it was last updated.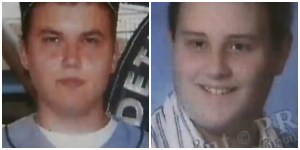 DETROIT, MI (WJBK) – Two teens were murdered execution-style in a field in Detroit two and a half years ago.  The defendant was able to speak to the mother in court.  What he said had everyone shaking their heads.  His 'Black Lives Matter' speech has now gone viral on Reddit.
Jourdan Bobbish and his friend Jacob Kudla went missing in 2012.  Their lifeless bodies were discovered days later.
WJBK-TV reports that Fredrick Young and Felando Hunter were sentenced to life in prison this January for robbing, torturing, murdering the two teens who were trying to buy drugs.
Their families read impact statements in court during the sentencing.  Jacob's mother said, "Not only did the defendant take away my son's future; he took away my future – my future as a mother – my future as a grandmother."
Jordan's mother said, "I have sorrow in my heart, soul and every fiber of my being today and I will carry that with me for the rest of my life."
Defendant Fredrick Young also had something to say to the court.  "I'd like to say sorry to the families of Aiyanna Jones, Michael Brown, Eric Garner. I want to apologize to them for not being able to get justice for their loved ones who was murdered in cold blood – and in respect for the peaceful protest, I want to say hands up don't shoot. Black lives matter – that's it your honor."
The courtroom was visibly shocked by the speech.