This is an archived article and the information in the article may be outdated. Please look at the time stamp on the story to see when it was last updated.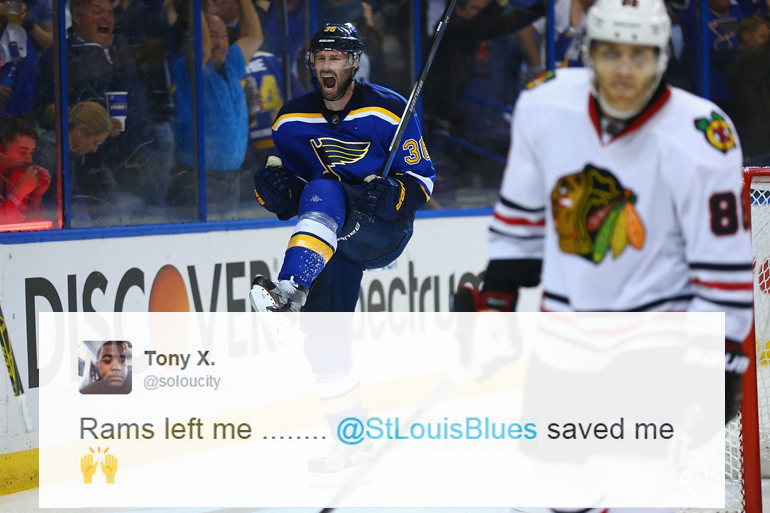 ST. LOUIS, MO (KTVI) – A lot of new fans are embracing hockey after the Rams left town. A Twitter user named "Tony X" discovered the sport the night the St. Louis Blues beat the Chicago Blackhawks. Fans erupted at the Scottrade Center after St. Louis won 3-2 in the last game of the series. His posts to social media about the match are going viral.  The Blues even offered him playoff tickets after reading his Twitter timeline.
Rams left me …….. @StLouisBlues saved me 🙌 https://t.co/SIlJ5heFjb

— Tony X (@soIoucity) April 26, 2016
I don't know who this dude kane is but we gotta stop him.

— Tony X (@soIoucity) April 26, 2016
WE DID ITTTTTTTTTTTTTTTTTTTTTTTTTTTTTTT

— Tony X (@soIoucity) April 26, 2016
"We" being used very loosely.

— Tony X (@soIoucity) April 26, 2016
https://twitter.com/soIoucity/status/724806076902711296
Tony was looking for the Cardinals game on TV when he tried flipping channels to FOX Sports Midwest.
That is when he discovered the joy that is the NHL playoffs. It is one of the most exciting postseasons in all of sports. It looks like he found his new favorite sport.
The St. Louis Blues started reading Tony's tweets. They offered him tickets to its first home game of the next round. Tony accepted their offer but didn't know what to wear to the game.
Welcome to Hockey Twitter & #stlblues fandom, @soIoucity! Want to check out Game 3 live? It's on us! #WeAllBleedBlue https://t.co/27o5fB69KE

— St. Louis Blues (@StLouisBlues) April 26, 2016
I'm there 🙌🙌🙌 should i bring a jacket? 😂 I'm so serious. It is a room full of ice https://t.co/yWHLuYpmdy

— Tony X (@soIoucity) April 26, 2016
Bruh i got cousins on Facebook hitting me up like i won the lottery. pic.twitter.com/n3SsFisUwg

— Tony X (@soIoucity) April 26, 2016