This is an archived article and the information in the article may be outdated. Please look at the time stamp on the story to see when it was last updated.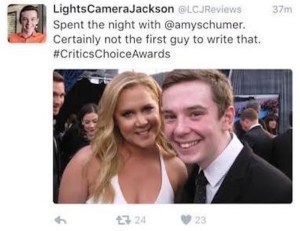 LOS ANGELES, CA – A 17-year-old got his picture taken with comedian Amy Schumer at the Critics' Choice Awards on Sunday. He posted the photo to twitter with this caption:
"Spent the night with Amy Schumer. Certainly not the first guy to do that."
Shumer responded:
"I get it. Cause I'm a whore? Glad I took a photo with you. Hi to your dad."
Murphey apologized, which is a lot more than some adults would do.
https://twitter.com/LCJReviews/status/689150677801541632
Schumer accepted and responded on Twitter:
@LCJReviews that's really okay honey. I just remember thinking you and your dad were sweet and it was a bummer to read that

— Amy Schumer (@amyschumer) January 18, 2016
Jackson Murphy has been reviewing movies on his YouTube channel under the moniker Lights Camera Jackson for the last 10 years.  He was at the awards show to meet celebrities and review movies.
Schumer was at the show to accept her MVP award.  You can watch her speech here.