This is an archived article and the information in the article may be outdated. Please look at the time stamp on the story to see when it was last updated.
SPOTSYLVANIA COUNTY, VA — A picture of a toddler posted to Facebook suspended by his twisted t-shirt by a door frame has led to an arrest.  His 18-year-old mother,  Alexis Breeden, turned herself into police after a felony warrant was issued.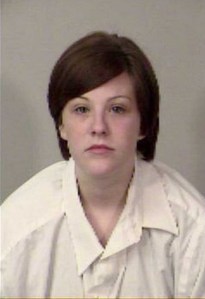 WTVR-TV reports that people were horrified by the picture posted to social media.  Many sent the image to the  Spotsylvania County Sheriff's Facebook page.  A criminal investigation was launched through the child victim unit.  According to sheriff's office investigators, the picture was taken between Sept. 1 and Sept. 10 by the child's mother.
A CBS 6 interview with First Sgt. James Konicki with the Spotsylvania County Sheriff's Office reveals,  "The baby's father and mother had an argument and in retaliation the father posted this on Facebook to get the mother in trouble." He adds that the father of the child was not involved in the alleged abuse.
In an entry on Breeden's own Facebook page, she lashed out at people criticizing her.
"The cops came to my house twice last night and saw that he was fine. They think this was immature and dumb of me but he saw I was playing and no one needs to know everything going on because some of you aren't parents and no one knows the full story. Mind your own f******business," the post reads.
Breeden is now facing a felony child abuse charge.