This is an archived article and the information in the article may be outdated. Please look at the time stamp on the story to see when it was last updated.
CLAYTON, MO (KTVI) – Two women are charged in connection with a "Moral Monday" protest blocking rush hour traffic on I-70.
Brittany Ferrell, 26, and Alexis Templeton, 21, have both been charged with trespassing and disturbing the peace. Ferrell is also facing property damage charges. Templeton also faces assault charges.
St. Louis County prosecutor Bob McCulloch says in a statement:
"The charges stem from the efforts of the defendants to block traffic on Interstate 70. Templeton is accused of punching the victim as our victim attempted to drive past the defendant. The victim suffered an eye injury as a result." McCulloch also said "Ferrell kicked the victim's car as she passed causing nearly $5000 in damage."
A few dozen protesters blocked I-70 in both directions near the Blanchette Bridge during Monday afternoon's rush hour. Traffic was brought to a standstill between Highway 141 and the bridge for about 20 minutes as demonstrators formed a line and locked arms across the lanes. The protesters also placed yellow boxes on the ground, with "Ferguson is everywhere" written on them.
The Missouri State Highway Patrol broke up the roadblock at around 5:50 p.m. Authorities followed some of the protesters back to their own vehicles and arrested them in a nearby parking lot.
Video captured by our Bommarito Automotive SkyFox helicopter showed a grey SUV push its way through the line of protesters.  This is the only vehicle that broke the demonstrator's blockade.  It is also the vehicle that Ferrell and Templeton are accused of attacking.
Ferrell was held on a $10,000 bond. Templeton was released on a summons.
Both @bdoulaoblongata and @wavyblackwoman have been released. They are somewhere in the middle of that crush of ppl pic.twitter.com/pAsy4FFEcu

— Rachel Lippmann (@rlippmann) August 12, 2015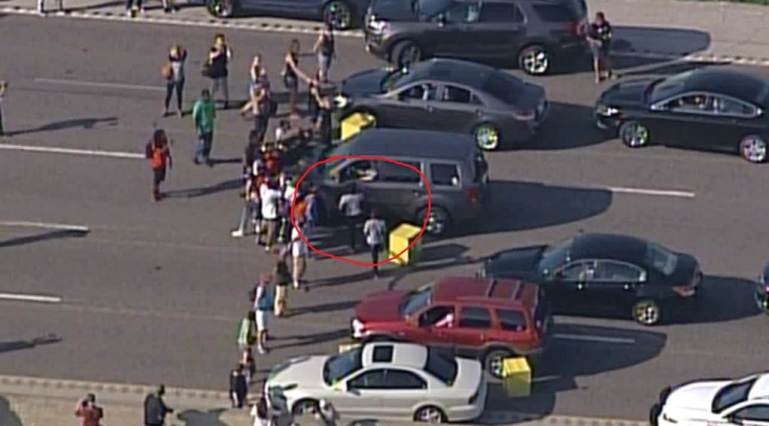 https://twitter.com/CassandraRules/status/630873997735911424
And here is the press release re: the charges being attributed to @bdoulaoblongata and @wavyblackwoman. Y'all, wild. pic.twitter.com/GuVCHLdsW8

— deray (@deray) August 12, 2015