This is an archived article and the information in the article may be outdated. Please look at the time stamp on the story to see when it was last updated.
NOTE: One of the images posted below is disturbing in nature.
ST. LOUIS (KTVI) – A five-year-old Border Collie mix faces an uncertain recovery after being the victim of a horrific case of animal abuse in north St. Louis City, Stray Rescue of St. Louis said.
According to Randy Grim, founder of Stray Rescue, U.S. Marshals contacted his office on Friday, March 27 after discovering a dog in poor shape near Christian Avenue in the Baden neighborhood. Someone had tied a knotted rope around the back of the dog's waist and genitals. The rope had embedded itself deep into the dog's waist and also severed its genitals in half.
Grim said the dog was in excruciating pain and had an infection that would have lead to a slow, miserable death for the animal.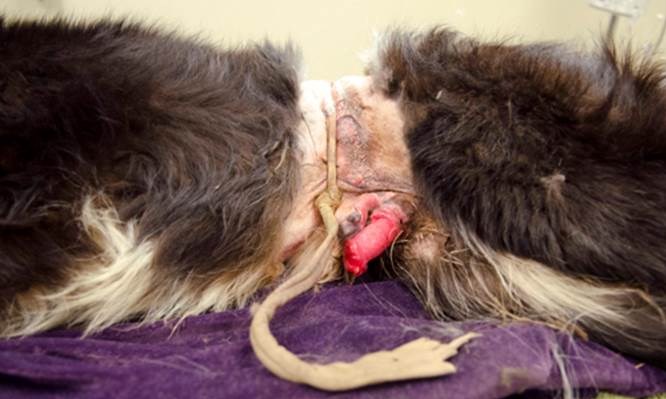 The dog, given the name "Pazzo," went into surgery to have the rope carefully removed from his waistline and those wounds sutured. He also underwent reconstructive surgery on that area and likely needs at least two additional surgeries. Pazzo also has a bad case of heartworms and will need to be treated for that.
Anyone with information on this case is asked to call the Stray Rescue Animal Abuse Hotline at 314-771-6121 (ext. 255) or the St. Louis County Police Department. A reward is being offered.