This is an archived article and the information in the article may be outdated. Please look at the time stamp on the story to see when it was last updated.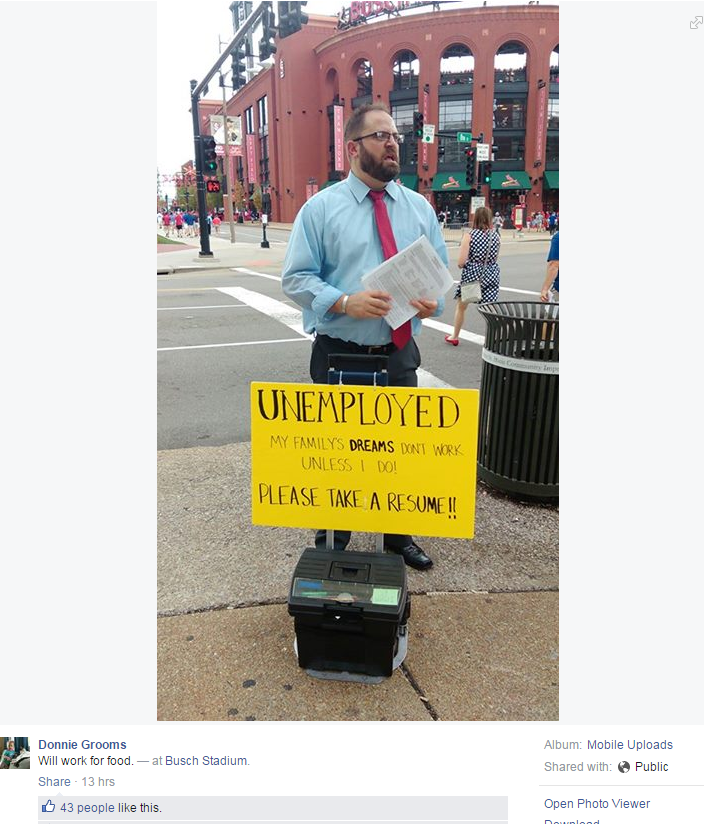 ST LOUIS — The Cardinals downed the visiting Cubs on Wednesday night 4-3, but the real story making waves from Busch Stadium was a man standing outside the ballpark armed to the teeth with resumes.
Jennifer Grooms, the wife of Cardinals fan Donnie Grooms, shared an image of him on Facebook showing her other half standing outside the stadium with a sign reading "unemployed, my family's dreams don't work unless I do. Please take a resume."
The image was soon shared by other Facebook users, including Donnie himself. Jennifer and Donnie then watched largely positive responses to the idea pour in as the story gained traction on Reddit and Imgur.
Saying he has been "overwhelmed with responses" to the image, Donnie wrote in his most recent post that he had to take a break as "my wife was just diagnosed with pneumonia last night and our daughter is also sick."
Grooms included his email address and details of his LinkedIn account in his most recent post. He lists himself as being suitable for the following roles: health and wellness coordinator, human resources generalist, training specialist and office administrator, having previously worked with On Time Toner until earlier in 2015.