This is an archived article and the information in the article may be outdated. Please look at the time stamp on the story to see when it was last updated.
TOWN AND COUNTRY, MO. (KTVI) – FOX 2 has been a proud supporter of Variety, The Children's Charity for a long time.
Wednesday night's dinner at the Bellerive Country Club in Town and Country was the kick off to a series of events meant to raise money for children with disabilities.
The charity dinner got to showcase some of its star children as they sang for the audience.
But the night was a special one for Gracie Gibson of De Soto.
"It's going to be very special to see her up and going across that stage," said Gracie's mother, Kim Gibson crying.
Gibson's emotions said it all. The proud mother who, thanks to Variety, will get to watch her 18-year-old-daughter graduate high school in May.
Gracie was born with cerebral palsy.
"There are so many children who've had surgeries because they haven't been fortunate enough to stand," Gibson explained, "and so many insurance companies don't pay for standers and they really don't pay for wheelchairs that stand, so we are very thankful to variety for buying this wheelchair for Gracie."
Without the organization's help the wheelchair would cost $50,000.
"That standing feature is so important for Gracie," Gibson explained, "for her hips, for her spine, for her legs just to keep her healthy."
Many families like the Gibson's face challenges when it comes to affording expensive medical equipment. That's why Wednesday night kicked off what would be a series of money raising events to help ease that burden.
David Steward, the founder of Worldwide Technology Inc, and a philanthropist plays a large role with supporting the charity.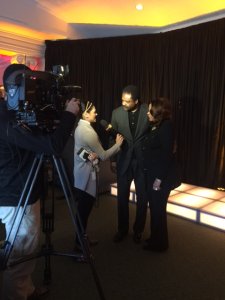 "The mental and physically disabled are a valuable part of our community," said Steward, "and we make sure we encourage them and give them hope, give them faith and help their families by investing in them in a way that is good for them for the rest of their lives."
"If we didn't have Variety it would be crazy," said Gibson, "it would be crazy, it would be sad, I can't imagine."
The next big project Steward said that Variety is working on is building a facility or a home that would provide therapy and recreational activities for children with disabilities.
Meanwhile, Gracie plans to attend Jefferson College this fall and wants to major in journalism.