This is an archived article and the information in the article may be outdated. Please look at the time stamp on the story to see when it was last updated.
ST. LOUIS (KTVI) - A student protest led to promised changes by the Superintendent of St. Louis Public Schools.   The catalyst for this protest was reportedly the early morning resignation of Vashon High School`s beloved principal.  His resignation involves something very personal.  Students say they`ve been worried about not seeing their Principal lately and claim their learning has deteriorated because of it.
Senior Chelsea Washington said, 'We saw a whole bunch of stuff go down the drain.'  Washington was one of dozens who walked out of school this morning.  She praised her former principal Terry Houston for making Vashon a great place to learn.  She added, 'We had enough computers, enough teachers, enough classes.  We didn`t have a lot of substitutes because our teachers came!'
Washington explained specific problems that began when Houston wasn`t around, including more teachers being absent and a deterioration of the computer lab.  Students walked out to demand their education back.  Washington said, 'We don`t have enough books for classes. If we have books for class, they`ve got to stay at the school. What about the books we`ve gotta do at home?'
One of the students reportedly called 3rd Ward Committeeman Anthony Bell to help them make their case.  Bell said, 'I`m looking forward to them having a quality education- what it`s going to take here in America now.'
Students who walked out faced automatic expulsion, but the Superintended Dr. Kelvin Adams negotiated a compromise to get students to return to class.  One of his tactics focused on a phrase written on the High School sign, about making the 'right choice.'
Dr. Adams reportedly promised specific actions.  District Spokesman Patrick Wallace explained, 'One of the concerns was there was not a Spanish teacher.  That for the students that need second year Spanish to graduate, I think it`s an internet course of some kind.'  Wallace noted a shortage of certified Spanish teachers in the entire community, but said Dr. Adams came up with a plan to help these students who are learning online.   Wallace said Dr. Adams, 'heard them and he will provide a substitute Spanish tutor to come in and assist them.'
A school representative said former Principal Terry Houston told Staff at Vashon about his personal need to step down, but decided not tell students, mostly because of a fear he would break down into tears in front of them.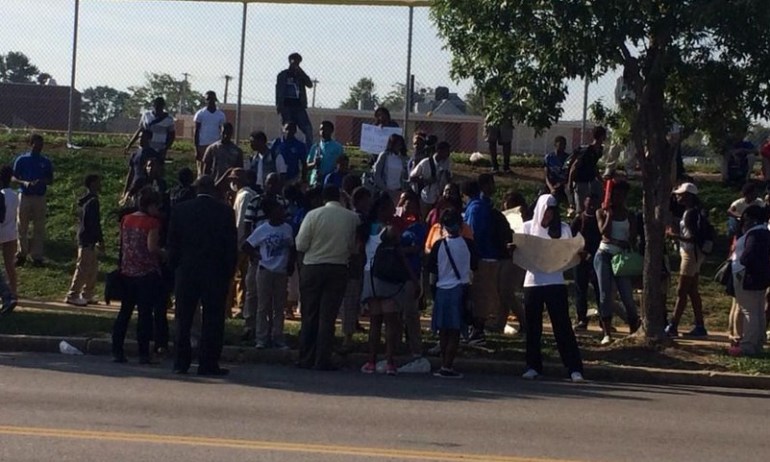 A silent walkin led by @SenatorNasheed back into #Vashon. Student demands for teachers, no subs met. pic.twitter.com/RbsS1ZQM9B

— elisacrouch (@elisacrouch) September 26, 2014
SLPS Super. Kelvin Adams negotiated students' return to Vashon based partly on the school's motto. pic.twitter.com/3Ba4DZkiQ9

— Chris Hayes (@ChrisHayesTV) September 26, 2014