This is an archived article and the information in the article may be outdated. Please look at the time stamp on the story to see when it was last updated.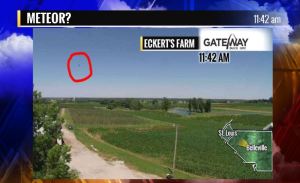 ST. LOUIS, MO (KTVI) – Several FOX 2 viewers have called in say they saw something fly over the area at around 11:40am.  Meterologist Angela Hutti captured something on one of our cameras stationed at Eckert's Farm in Belleville.  Others report seeing the object  across the viewing area.
Tom Stolze posted a video of what he is calling a meteor to YouTube today.  He writes, "Our outdoor camera caught footage of a meteor today to the NW of O'Fallon, MO located west of St. Louis, MO."
Rich Loeschner writes, "I believe I just saw a small meteor fall somewhere by St. Charles. I was driving west bound on 370 when I saw a streak of light come straight down and went out about 200 yard in the air. I thought I heard a faint explosion. Looked like a small firework but very bright!"
Quinton LeJeune sent this message to FOX 2, "I seen the meteor just northwest of Moscow mills from hwy U/ us 61 it was really cool it was green blue red and yellow"
"I saw what I thought was a flair in Clayton about the time others were reporting the meteor. It looked to be right over Brentwood Blvd and Forest Park express way. wrote Denise Hayes Bolds.
"I saw that flash of light today around 11:40am near page and Lindbergh. I wasn't sure what it was." Tashishia posted to FOX 2's Facebook messages.
Did you snap a pic of the object? Share it with St. Louis. Post it to our Facebook wall or e-mail ktvinews@tvstl.com.
@anneeliseparks @FOX2now anyone else see a streak of fire falling from the northwest sky about 11:45am? Saw from my office in Creve Coeur

— Jordan Iverson (@jiverson26) June 6, 2016
Hmmm… I did not! Anyone else see this? #stlwx https://t.co/JZe32i0luP

— Anne Elise Parks (@anneeliseparks) June 6, 2016
Meteor or jet from Scott AFB? We took lots of reports of a meteor streaking across the skies over St. Louis… https://t.co/fXmkEJoOR9

— Angela Hutti (@AngWxGrl) June 6, 2016