This is an archived article and the information in the article may be outdated. Please look at the time stamp on the story to see when it was last updated.
ST. LOUIS, MO — A science blogger is offering some insight into why at least 13 people lost their lives on Table Rock Lake Thursday night. Meteorologist Glenn Zimmerman says that Mike Smith's essay examining video, radar, and warnings from the incident is essential to understanding what happened in Branson.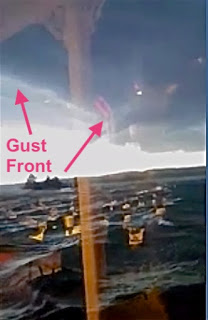 Smith says that the video and radar shows a "gust front" at the cloud base during the storm. The Branson Airport reported winds at 63mph that evening. When the line of storms swept through Springfield it produced a gust of 74mph. Witnesses say winds were at 80mph at the lake with five-foot waves.
Mike Smith explains:
"Below is the type of radar display you see on television. I've circled the general area of the sinking. This was a case where there were strong winds ahead of the heavy rain. The winds were behind what is called a "gust front." It appears as a thin, irregular blue line (arrows). There were also intense winds with the heavy rain (yellow and red) when it arrived which would have decreased visibility to very low values"
A severe thunderstorm warning was in effect at the time of the sinking. It was issued at 6:32pm Wednesday and the boats sank around 7pm. The alert warned of 60mph winds and possible damage to roofs, siding, and trees. It is not clear if the boats were in the water before or after the warning was issued.
Authorities are expected to provide an update about the accident Friday morning.