This is an archived article and the information in the article may be outdated. Please look at the time stamp on the story to see when it was last updated.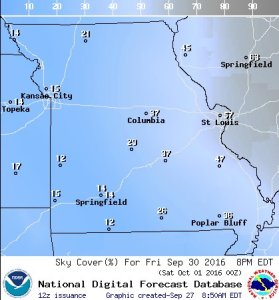 ST. LOUIS, MO (KTVI) - The final day of September will bring a rare lunar event that hasn't occurred since march of 2014.
You may have heard of a "Blue Moon," which is the second full moon in a calendar month. There will be a "Black Moon" in the sky this September.  It is also known as the second new moon in a calendar month.  This new moon can be seen on Friday, Sept. 30 at 7:11 p.m. Central Time.
It may be difficult for some people to see the new moon. This first phase of the moon is only illuminated by earthshine. The side illuminated by the sun is not visible to Earth. The moon can be seen in silhouette.
The phenomenon may also be difficult to see because of cloud cover.  The forecast for Friday calls for 20-50% sky coverage.
The "Black Moon" is a somewhat rare event.  This type of event happens once every two and a half years.
If you're having trouble keeping up with all the different types of 'moons' we've got now - with blood moons, blue moons, and supermoons clogging up your sky-watching calendar - the black moon is a fairly new addition, and experts are still trying to nail down its definition. Some say a black moon occurs about once every 19 years, when the month of February skips a full moon. Others say it describes a month that skips a new moon - the first phase of the lunar cycle, when the Moon and the Sun have the same elliptical longitude.
The most common definition for a black moon is that it's the second new moon in a calendar month, which means this Friday's event is the second time in September that the Moon will be entirely invisible in the night sky - for those in the Western Hemisphere, at least.